Dorin Goian retains Rangers SPL title belief
Last updated on .From the section Football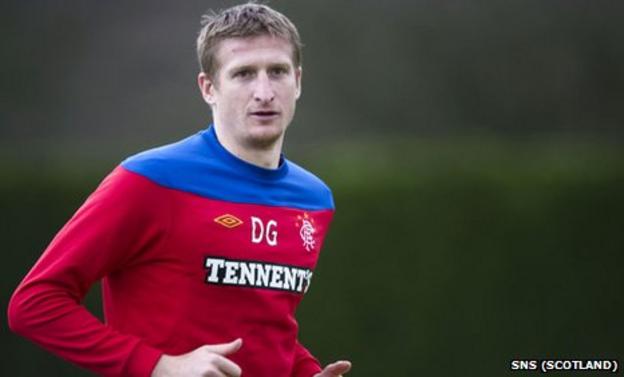 Dorin Goian believes Rangers can recover from their slip in form to retain the Scottish title - if they can regain their confidence.
"I feel the team we have is capable of winning the title," Goian told Rangers' website.
"We have made a couple of mistakes and we have paid for them, but I am very confident we can still win the league."
on Monday looking to avoid a third straight defeat and having squandered a 15-point lead at the top of the Scottish Premier League.
"People should remember that the championship is long and there are still many games to play," Goian insisted.
"I still think it is in our hands to win the championship.
"We have to rediscover our confidence and I think we can do that against Motherwell and win the game.
"If we do that, it will give us a chance to put things back to normal.
"When you have tough moments, you have to train harder, you have to find something extra to recover and I feel we can do that."
Goian missed the game after being show two yellow cards in last weekend's 2-1 reverse away to St Mirren and admits it was difficult to watch the Old Firm match from the sidelines.
"It is difficult for a player when he is sent off and then is unable to play in the derby," he added.
"I think the second yellow card in the St Mirren game was not deserved, but we can't do anything about that and the game is now passed.
"It was difficult for me not to play in the Old Firm game.
"It was an uncomfortable experience to sit at home and watch the game on TV because I wanted to be there on the pitch.
"Unfortunately, that is life and you have to deal with it.
"Everyone wants to play in an Old Firm game. I am the type of player who wants to play in this type of arena."