Coleraine striker Leon Knight given travel costs ultimatum
Last updated on .From the section Football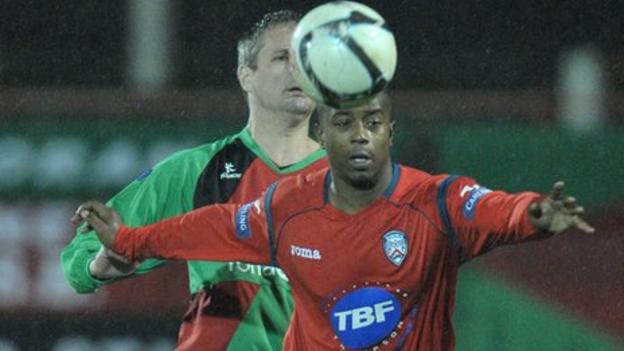 Coleraine have told striker Leon Knight he must live in Northern Ireland or pay for his flights from London if he wants to stay at the club.
An agreement in Knight's contract stated that he would find a place to live in Northern Ireland.
However, Knight has lived in London since October and bringing him over for matches is costing the club £1,000-£1,500 per month.
"Leon has to be treated like every other player," said boss Oran Kearney.
"When we agreed the two-year contract with Leon in the summer, there was no clause about us paying for flights," Kearney told the club website.
"We tried to use money from our budget freed up by the departures of Stephen Parkhouse, Peter Spratt and others, combined with the generosity of some of our board members, to bring him over for games.
"I'm well aware we have a tight budget, this money was never part of our deal and to me it's not something we can afford to stand over for another year and a half. It was never going to be a long-term fix.
"The last flights we booked were for Boxing Day and with Saturday being New Year's Eve, the flight schedule created additional difficulties for Leon, so no flights were booked to bring him over for the Cliftonville match.
"If he wants to continue to play for us, it's up to him to make the decision to come back over here to live, or it's up to him to pay for flights and make his own arrangements to travel over."