Dutch side Venlo reveal strategic African plan
By Pieter Stroink van Eizenga
BBC Sport, Amsterdam
Last updated on .From the section Football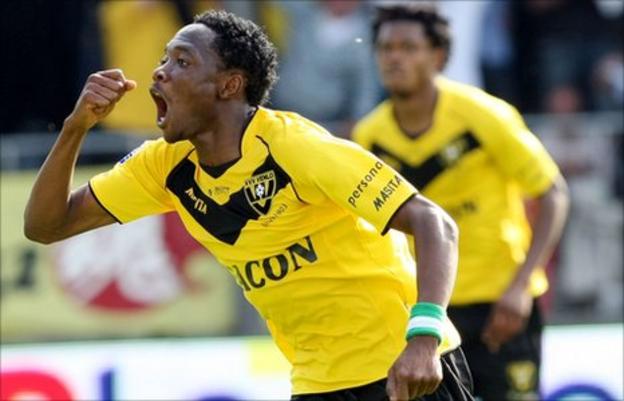 VVV Venlo say their signing of Africans is part of a strategic plan to compete with the top sides in the Dutch league.
Venlo chairman Hai Berden started this plan nearly two years ago when he signed four Nigerian younsgters.
Ahmed Musa, Uche Nwofor, Michael Uchebo, and Alex Nkume are now key players of the team.
"Through our advisors we were informed about the Nigerian youngsters. This led to the signing of these talented players," Berden told BBC Sport.
"African football players are known for their strength and power. They are also disciplined and they show this on the field."
Despite the challenges Venlo face in releasing of their players for matches outside the Fifa international calendar the Dutch side are delighted with the performance of the Nigerians so far.
Berden says they will continue help the youngsters to mature insisting that two of them can be world-class players.
"We are putting great effort into guiding them as much as we can. Ahmed Musa and Uche Nwofor are potential top players," Berden said.
"The playful and adventurous style of play is what makes African football for what it is. And I really enjoy it.
"It's a compliment for both the club and our players they are being selected for the Super Eagles and youth selections.
"The downside is that you have to deal with possible injuries they could suffer when they are on international duty. But that's a risk we are willing to take.
"We are careful when it comes to releasing players for matches of the national team which are not scheduled according to the official Fifa dates.
"In most situations, we tend to cooperate with the national football federations and their demands and then see what's best for both sides."
Tijani Babangida was the first Nigerian player to ever play for the Dutch minnows in the early 1990s.
His role involving the arrivals of these players is a consultative but his counsel helps them to acquire good talent at a cheaper price because they are priced out of the Dutch market by richer clubs like Ajax and PSV.
"We have a solid network with lots of expertise. This is a necessity for small clubs like Venlo to keep their heads above the water," the Venlo chairman said.
"We have tried signing local and national talents. However, most of the times they rather sign for Dutch top teams.
"We do have seven players in our first team selection that are a product of our youth system.
"We are not afraid of losing our identity. It all comes down to the quality of a certain player. Society is multicultural and so is football.
"People relate to the type of football a team plays. And if we can achieve this with Nigerian players, why not?"