Remembering Liverpool, Everton and Birmingham's Gary Ablett
Last updated on .From the section Football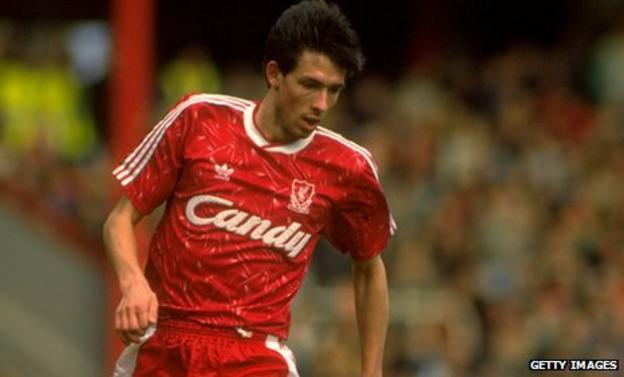 The football world has been paying tribute to former Liverpool, Everton and Birmingham defender Gary Ablett, who has died at the age of 46 after a 16-month battle against non-Hodgkin's lymphoma.
Ian Rush, former Liverpool striker: "Gary was a really versatile player, somebody who would play anywhere the manager asked him. The fact he played for both Liverpool and Everton says something about how good he was as a player.
"He summed up what Liverpool people are all about. He gave 100% to the team and my favourite memory of him was after the 1989 FA Cup final - he was so proud to win something for the team.
"He was a very knowledgeable football man too. He was not a shouter and a raver, he was more of a coach. He knew a lot about the game and he could see potential in young players - a skill in itself.
"Off the pitch, he was the perfect gentleman. He had a lovely family, which he brought up really well, and he was such a respectable person. If he could help you with anything, he would."
Mark Lawrenson, former Liverpool defender: "He was my boot boy, around 1981, and my first memories of him are as a really nice lad, who was very polite and respectful of the senior pros.
"He was a tall, thin, gangly lad but he was a great runner. One of the lads nicknamed him Seb, after Sebastian Coe.
"I think I had left the club when he broke into the first team, but it was obvious he was always going to get there.
"He knew he had to work hard to make it, and that is what he did.
"He had lots of pace to recover and he was very good on the ball, as many left-sided defenders tend to be. He was a good team-mate too, you could never have enough Gary Abletts in your team.
"He was a real gentleman."
Alan Hansen, former Liverpool defender: "He was a lovely guy and he was quite unassuming and everyone loved him.
"It is such a shock even though we knew he was ill. I texted him on December 7 to go and see him and have a cup of tea and he texted back to say he had a doctor's appointment but wished me a merry Christmas and said he would see me in the new year.
"Then we get the news and we are absolutely stunned and cannot believe this has happened.
"Talking to two or three ex-Liverpool players we are all distraught because we all thought he was fine and recovering.
"To die at 46 years of age is absolutely tragic. Each and every one of us is stunned by the news.
"He came into the dressing room when Liverpool had one of the great teams and he was right in there because he was a top-class player as well.
"If he had joined Liverpool in the late 70s or early 80s he would have been a permanent fixture.
"He was a dedicated, consummate professional but he was right at the top of the tree.
"I had a couple of great centre-back partnerships at Liverpool and he was as good as anything.
"I played with him when he was on the left-side of defence and he made it really easy for me and as soon as he stepped into the Liverpool side I knew he was a top-class player."
Kenny Dalglish, Liverpool manager: "I gave Gary his debut and remember him scoring on his first start at Anfield against Nottingham Forest," he told the official Liverpool website.
"He was a really good servant to the football club not only as a player, but also as reserve team coach.
"He served the club proudly and credibly. It's very sad for everybody."
David Moyes, Everton manager: "It is so, so sad about Gary.
"He was a regular visitor here to Finch Farm (Everton's training ground) over the last six months and he was a lovely man, well liked by everyone.
"My thoughts are with all his family at this terrible time."
Pat Nevin, former Everton winger: "He was a classy defender and had decent quality going forward as well and he was not dirty in any way. But because of his understated way he was maybe under-rated by many people.
"I played against him a lot when I was at Everton and he played at left-back. It says something that I enjoyed playing against him even in the Merseyside derby, which is one of the most stressful games in world football, because he was just such a nice guy.
"I'm shocked and saddened. Gary was a lovely, lovely guy who was liked by everyone. I don't think anyone will have a bad word to say about him."
Barry Horne, who played alongside Ablett for almost four years at Everton recalls a typical piece of play by his former team-mate in the thumping 4-1 victory over Tottenham in the FA Cup semi-final victory at Elland Road in 1995: "Late, late on in the game he made an unbelievable run to set up one of the goals.
"The game was already won but he ran almost the length of the pitch when he didn't need to and that just about summed him up.
"We had some good years playing at Everton together. He was so brave to make the move having been so successful at Liverpool. He was regular at Liverpool and a great contributor and it can't have been easy to come to Everton but he was successful there as well.
"When I came I was surprised how good he was and I shouldn't have been. It's very often the case that with unsung heroes at teams it's easy not to give them the credit they deserve but I saw what a good player he was when I played with him.
"He had a wonderful left foot, was fantastically cool and was a natural athlete. He was extremely versatile, could play anywhere on the left or at centre-half and never complained about where he was asked to play.
"He was a very, very understated person and such a genuine, generous man. He had a great sense of humour and was just a very giving. It was a pleasure to play with him."
Liverpool captain Steven Gerrard: "First and foremost he was a really good guy, a terrific servant to the club as a player and as a coach and it's a really sad day for everyone at Liverpool, but the people who matter most in this situation are his family and our thoughts are with them," he told the official Liverpool website.
"I'm sure everyone at Everton speaks the same as everyone at Liverpool does and that speaks volumes for Gary, the respect he has at both places. He was a top guy and a top professional in the way he went about his work. He was enthusiastic and all the players who worked under him for the reserves and the first team certainly learned a lot off him."
Liverpool defender Jamie Carragher: "He was a great person," he told the official Liverpool website.
"I knew him when he was here as a coach and he did a fantastic job here, winning the league in his second season. He had a great rapport with the lads, particularly the younger ones.
"There are not many people who can cross the divide between Everton and Liverpool like he did, both as a player and coach; no-one at either club has ever had a bad word to say about him and that's evidence of the high esteem he's held in.
"He was a great player for Liverpool and for Everton; he won the FA Cup with both teams. That will probably never happen again and that's a great achievement. He played in a great Liverpool side with the likes of Barnes, Beardsley and Aldridge and to be involved in that was something special. When he went to Everton he was part of the great side they had there with Joe Royle and the 'dogs of war' team.
"He was a great bloke and he always had a smile on his face; that's how I'll remember him, great to be around."
Roy Evans, former Liverpool manager: "It's a big shock," he told Sky Sports News.
"Obviously we know Gary's been ill for a while. It's a really sad day.
"He was good at everything he did as a player.
"He went into coaching and stamped his personality onto that and was doing a very good job, certainly at youth level.
"I remember he had bit of a difficult first spell at Stockport, but overall he's had a great career in football, he's a big loss to the sport.
"He made a big contribution to the game."
Paul Walsh, Liverpool striker 1984-1988: "I joined Liverpool when I was 21 and Gary would have been 18.
"I went into the reserves and my first few games were with Gary. He was just trying to make his way, he was a top lad.
"He just wanted to get in there and do well. He didn't do anything fancy but trained hard and had a great attitude to everything he did.
"There was a steely determination about him. You don't get into the Liverpool side and come through ranks if you don't have that steel. I'm gutted for him, his family and everyone who was close to him."
David Fairclough, ex-Liverpool striker: "He was a lovely lad, he always conducted himself in the right way.
"He was great with people, always personable. What always came through with Gary was his attitude was just always very, very right."
Birmingham City FC: "The thoughts of everyone connected with Birmingham City Football Club are with the friends and family of Gary Ablett.
"Amiable Ablett played over 100 games for Blues in a three-year spell between 1996 and 1999 and was liked and respected by all who came into contact with him.
"Just like he battled as a fierce competitor on the pitch, Ablett fought non-Hodgkin's lymphoma for over year before passing away peacefully.
"Our deepest sympathies and condolences go out to Gary's wife Jacqueline and his children and everyone else that knew him."