Liverpool boss Dalglish says Man City fixture schedule unreasonable
Last updated on .From the section Football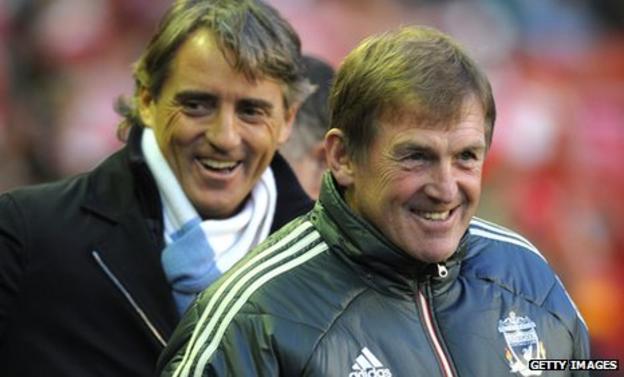 Liverpool manager Kenny Dalglish has agreed with Manchester City boss Roberto Mancini that City have an unfair festive fixture schedule.
"There has to be a bit of common sense, and a game on the first and third [of January] is a bit unreasonable really," said Dalglish.
"There has to be a reasonable amount of time for players to recover."
He added: "I know people will say he has a massive squad and enough to field two teams but you have to take the players into consideration because they are the ones who are the main attraction.
"But I think television has been massively helpful to many people in the Premier League so we cannot cut off the hand that feeds us."
Mancini made six changes for the trip to Sunderland, leaving both David Silva and Sergio Aguero on the bench, and is expecting to make a similar number for the visit of Liverpool.
"I changed six or seven players because I trust all my players, and also if I change six, seven players, they know what they should do on the pitch," said the City boss.
"Because we play two games in 48 hours, it's impossible to play the same players."
But despite the changes to the Premier League leaders' line-up, Dalglish does not expect his side's task to be any easier.
"We will go and play whichever 11 they put on the pitch and it doesn't matter how much they cost.
"They are certainly a really difficult side to play against and we have our work cut out.
"They are a fantastic side but so are we, so we are not going to go there and be scared," added the Scot.
Liverpool, fifth in the table, go into the game with four points from their festive fixtures, having drawn with Blackburn and beaten Newcastle, while City have taken just one point, being held to a goalless draw at West Brom before suffering a shock defeat at Sunderland.
"I thought we threw three important points out of the window [at Sunderland]," said Mancini.
"But now it is finished and we can do nothing. We need to think positively for the next game and for the future.
"We have 45 points and we have scored 53 goals, and I think we need another 45 points in the second half."