Brendan Rodgers celebrates rare Swansea away win at Aston Villa
Last updated on .From the section Football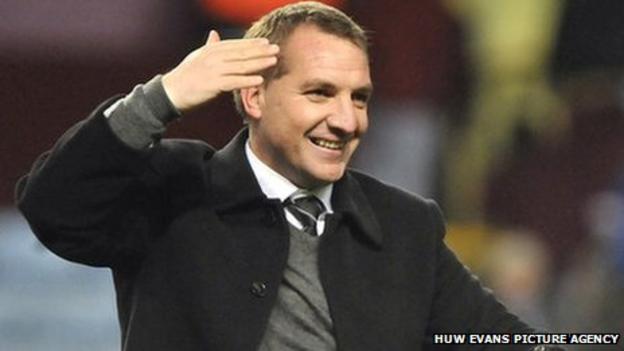 Swansea City manager Brendan Rodgers praised his "wonderful" players after their first Premier League away win.
Goals from man-of-the-match Nathan Dyer and Wayne Routledge earned a 2-0 victory at Aston Villa and lifted Swansea into 11th place.
"It was a wonderful performance and everything that is good in our game was typified today," Rodgers said.
"It was a great victory for us... we've had some really difficult games away from home against all the big clubs."
Dyer gave Villa full-back Stephen Warnock a torrid afternoon in a fine all-round display, while Routledge broke a Premier League scoring drought that had stretched to more than 100 games.
"Away from home I was never concerned... because of the level of performance, it was only going to be a matter of time," Rodgers added.
"I said to the players that it's a new year, now let's make a new commitment and a new resolve away from home and could we get that victory in the first game?
"So it's a fantastic start to the year for us... to come to a wonderful club like Aston Villa and get a result."
Rodgers' Villa counterpart Alex McLeish said that the result was a big comedown after his side had performed so well to win 3-1 at Chelsea on Saturday.
"It was hugely disappointing because in many ways this was a tougher game for them [the Villa players] than the Chelsea game because the expectation levels went to new heights," McLeish said.
"People were expecting us to wipe the floor with Swansea but I knew it could be quite a dangerous game, the way they pass the ball.
"When you shoot yourself in the foot and give away goals the way we did, it makes it so much harder."