Hearts manager Paulo Sergio hails hard-working players
Last updated on .From the section Football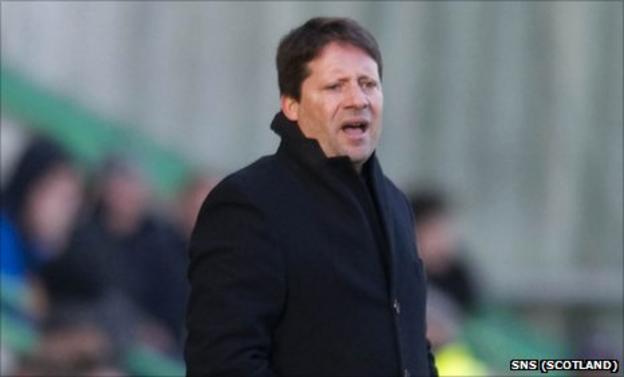 Hearts manager Paulo Sergio brushed aside financial trouble at Tynecastle and praised his squad for their 3-1 victory against Hibernian.
"Fantastic - I'm very, very happy for the players," Sergio told BBC Scotland after the match.
"They deserve it more than anyone. I think we deserved the three points."
"And I'm very happy because of all the supporters too because they support us a lot and I'm happy because they are very happy."
Sergio's men overcame their city rivals with two late goals despite Hibs keeper Graham Stack saving an Ian Black penalty just before the half-time interval at Easter Road.
Ryan McGowan had headed in shortly before the hour-mark before Marius Zaliukas scored an own goal seconds later to level the scores.
Andy Webster's low drive restored Hearts' lead with seven minutes remaining and substitute Rudi Skacel blasted in another on the break in stoppage time.
"In the end, we created all the good chances to score in the game," said Sergio. "We could've scored more goals and it's a very good victory.
"We are showing to everybody very good team spirit, fighting together, understanding what our ideas for the game and because of that of course I'm very proud of them."
The post-match interview brought to an end Hearts' media blackout, which began in late October.
The club were late in paying players' wages in the latter part of 2011 and, with the the opening of the January transfer window, Sergio admits his squad could become smaller.
"We already lost Eggert [Jonsson] and Ryan Stevenson for different reasons; we've already lost two very good players," said the Hearts boss.
"I don't know what's going to happen in January. I know if we have good propositions to sell, I believe we have to sell.
"I know our players have other clubs looking at them because they are working well, they are playing well. It's normal that other clubs show that they want our players.
"Let's wait. I believe we're going to have a hard January with all those movements. I'm not thinking about that.
"Our talks with our superiors, it's about looking to our young players and trying to put them in the first team. We will see."
Despite a turbulent first few months in charge, Sergio insists he remains focussed on leading the first team.
"I'm a fighter," he added. "I've never had easy jobs and our supporters can trust that since I arrived here, I never starting thinking about myself.
"I'm here with my mission, I want to do it. I love the club, I feel a Jambo like them and I want to do everything I can do to the best for the club, for Hearts.
"When I arrived, I came with a dream with things that people had promised me and the big goals for us.
"Now things are changing because of all these problems but I think I can feel happy doing the best I can, doing the best I know with the players I have.
"For me, it's all about the players. It's with them that I like to do my work."