Thomas & Blake back Bale's Wales call over Verheijen and Roberts
Last updated on .From the section Football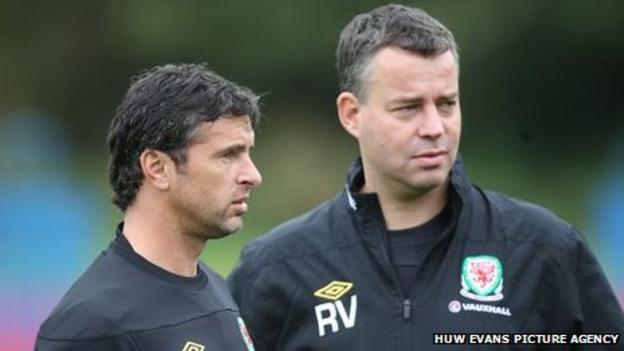 Former Wales stars Mickey Thomas and Nathan Blake have backed Gareth Bale's call for Raymond Verheijen and Osian Roberts to stay in the team management following Gary Speed's death.
Verheijen was Speed's assistant and wants to continue alongside Roberts for the 2014 World Cup qualifiers.
Thomas said: "I think they'll be staying in some capacity."
Blake says the Football Association of Wales is in a "difficult" position, but "might as well give it a go".
Manchester United's Welsh veteran Ryan Giggs has been linked with the role, but former Cardiff City striker Blake told Radio Wales Sport that bringing in a new manager above Speed's former backroom staff could create tensions.
Giggs has been linked with the role and has also been offered a further one-year contract at Old Trafford.
"If you bring in another manager you can't have the coaches telling the manager "well this is how it's going to be" and "this is how it's going to go"," said Blake.
"The manager ultimately is the person who's going to get the bullet if things don't go right, so it's a difficult balancing act.
"But you can clearly hear from the players what they want."
Swansea City's Wales defender Ashley Williams underlined those sentiments, telling BBC Sport Wales: "We don't need someone to change what we've done so that's all I'd ask for, really."
Blake added: "They've done a good job up to now and you're in a position where you may as well leave it alone - you may as well.
"They both want it. I do personally think they're a bit too inexperienced to take it all the way.
"But hey, I could be wrong, and I think if they both want it, the players want it, they all seem to be going in the same direction so you might as well give it a go for this one championships.
"Because it's not like we've... in the past 20 years qualified for every championships.
"We've not qualified for such a long time so why not?"
Verheijen, 40, who has helped coach Netherlands, Russia and South Korea at World Cups, wants to continue alongside fellow coach Roberts.
The Welsh FA hopes to name a successor to Speed ahead of their next game.
That is expected to be a friendly with Costa Rica in Cardiff on 29 February in what will be an emotional first international fixture since Speed's death.
The FAW plans a special tribute that night to the former manager, captain and most-capped outfield player.
Welsh football's governing body has yet to confirm the process for appointing the country's 13th full-time manager.
Verheijen has made no secret of his desire to remain involved with Wales alongside Roberts.
"Hopefully the board will respect Gary's wish so [fellow assistant] Osian Roberts and I can lead the team to Brazil," Dutch coach Verheijen wrote on Twitter on 11 December, 2011.
"There is no need for a new manager with new ideas. Our success was based on Gary's clear structure. Everybody knows what to do for mission Brazil 2014."
Despite a difficult start to his reign as manager, Speed won four of his last five matches in charge.