David Beckham extends LA Galaxy stay with two-year deal
Last updated on .From the section Football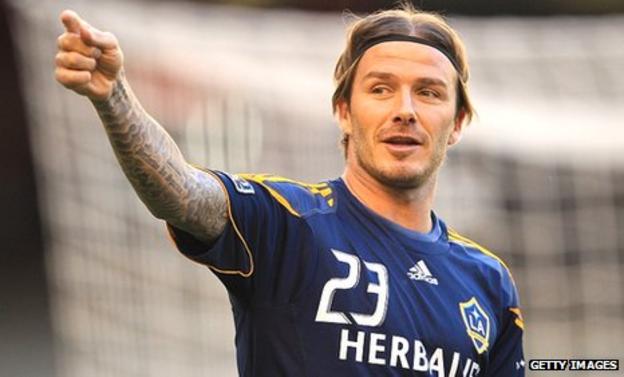 David Beckham is to remain at LA Galaxy after signing a new two-year deal with the club.
The former England captain, 36, had been linked with a move to Paris St Germain but decided to stay at the team he joined in 2007 from Real Madrid.
"This was an important decision for me," Beckham said in a statement.
"I had many offers from clubs from around the world, however, I'm still passionate about playing in America and winning trophies with the Galaxy.''
Beckham, who began his career at Manchester United, helped Galaxy lift the MLS Cup last season, meaning he has won a major trophy with each of the clubs he has permanently signed for.
His Galaxy contract expired on 31 December but with his family settled in California it now looks like he will finish his career in the United States.
He has stated previously he would like to be involved in the running of an American club when his playing efforts come to an end, and he still harbours hopes of competing for the Great Britain team in the London Olympics.
"I've seen first hand how popular soccer is now in the States and I'm as committed as ever to growing the game here,'' Beckham said.
"My family and I are incredibly happy and settled in America and we look forward to spending many more years here.''
Following his graduation through the Manchester United youth ranks, he moved to Real Madrid in 2003 for £25m before moving to the United States in a five-year deal worth £128m.
The move drew criticism at the time but it is accepted that he has helped boost football in the US.
LA Galaxy know how close they came to losing the player who gives the team international fame, and head coach Bruce Arena was delighted that Beckham extended his stay.
"I am thrilled that David has chosen to rejoin the Galaxy, especially as he had numerous options where he could continue his career,'' Arena said.
"I felt that he was one of the best players in all of MLS last season and we could not have achieved the success that we did without him. We look forward to trying to replicate that success this season with David once again in a Galaxy uniform.''
Beckham's deal was negotiated by head of XIX Entertainment Simon Fuller, who is the player's business partner and manager, and also looks after world number four tennis player Andy Murray and Formula One driver Lewis Hamilton.
"When David and I discussed making the move from Real Madrid to the LA Galaxy back in 2007, our minds were firmly focused on the massive opportunity of helping to grow soccer in the United States,'' Fuller said.
"We have made great progress over the past five years in raising the profile of soccer domestically and the MLS on a worldwide stage, and we are encouraged by all the results.
"However, clearly this is an ongoing mission and this new deal confirms our commitment to continuing our journey and making sure the world's biggest sport, soccer, continues to grow in the world's most passionate sports loving nation, the USA.''