Portsmouth set to announce new owners says CSI administrator
Last updated on .From the section Football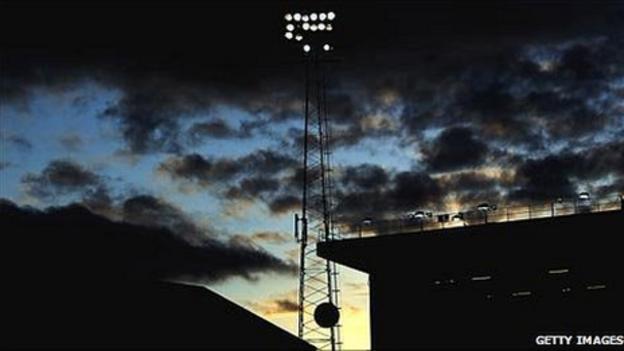 Portsmouth are close to announcing new owners according to administrator Andrew Andronikou.
Pompey's parent company, Convers Sport Initiatives, entered administration in November leading to the club's owner Vladimir Antonov stepping down.
Andronikou acted as an administrator at Fratton Park in 2010 and has been acting in a similar role with CSI.
"We are in the final stages of agreeing terms with one particular party," Andronikou told BBC Radio Solent.
"I'm hoping that in the next seven to 10 days I will have some news for the outside world."
In November Antonov and his business partner Raimondas Baranauskas appeared in court in connection with the alleged asset stripping of a bank in Lithuania.
Prosecutors in Lithuania want to question Antonov and Baranauskas as part of an investigation into claims involving Snoras Bank.
CSI subsequently entered administration leaving Portsmouth searching for new owners and facing a points deduction from the Football League.
The Fratton Park side became the first Premier League club to enter administration in 2010 and were consequently deducted nine points on their way to relegation from the top flight.
"We've been actively looking for someone suitable to buy the club and we've had numerous interest as usual, some more suitable than others," added Andronikou.
"They are coming in for the first time and we are checking their credentials to see if they fulfil all the criteria for the Football League.
"We are trying to scope out who they are and if they have the ambition and ability to take the club forward once and for all.
"We are looking to negotiate a contract and subject to that being okay we will put forward their application to the Football League who can conduct their own fit and proper person test and give us the thumbs up.
"Proof of funds has been done and we are fairly satisfied that they the finances to take the club forward.
"The Football League will do the work they need to do to satisfy themselves that these people are fit and proper because we are selling an important asset that is in the Championship and belongs to the city of Portsmouth and want to make sure put it in the right hands this time."
Andronikou refused to reveal details of the interested party but did say they had not been linked to the club previously.
He also reiterated his belief that Pompey would escape a points deduction from the Football League and continue to pay the players' wages.
"There are one or two individuals but one prominent individual and he has not been linked with the club before," he said.
"January is going to be a month that is going to test us all and I rather the matter was resolved sooner than later.
"At the moment we are doing our cash flow modelling. We paid the wages last week and we are four or five weeks away from the next wage bill and at the moment I am fairly confident we will get there.
"We are in middle of assisting the Football League with the information they require to make that call on a points deduction but I am fairly confident we should get the right result there."