Brazilian Gilson Paulo named Equatorial Guinea coach
Last updated on .From the section Football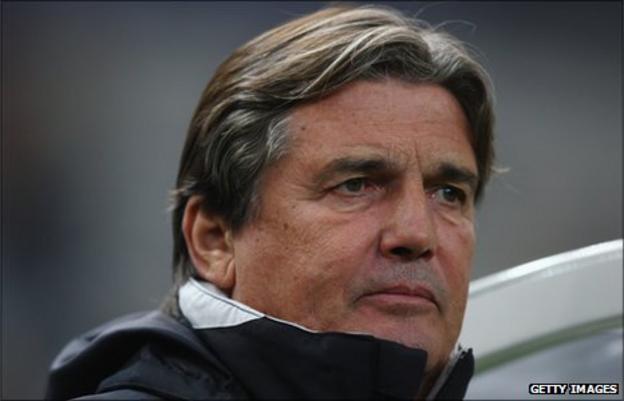 Equatorial Guinea have named Brazilian Gilson Paulo as coach just two weeks before they co-host the 2012 Africa Cup of Nations.
Paulo linked up with the squad for the first time on Tuesday as they prepare for Africa's flagship tournament.
His first match in charge will be on Friday when they host South Africa in a friendly in Bata.
The former youth coach at Brazil's Vasco da Gama has only six days before naming his squad for the competition, which Equatorial Guinea will co-host with Gabon and starts on 21 January.
One key point Paulo will have to address is the issue of naturalised players in the squad, for Michel had chosen a number of naturalised players above those with true Equatoguinean heritage.
This had led to great disharmony in the squad but midfielder Juvenal Edjogo says spirits have lifted considerably since the Frenchman's departure.
"The mood in the squad is much better as we can work now," the Spain-based midfielder told BBC Sport.
"I have always said that going to play a game with your own players, well, if you win or lose - at least you're playing with your own (people).
"You can lose, but tomorrow you can win and get better - but if you don't play with your own, you will always be going backwards.
"The atmosphere in camp is much better now, because everybody thought the same thing (about the naturalised players) but weren't in a position to say it."
Michel surprisingly resigned for a second time in protest at interference from 'a third party'.
This came after briefly leaving his post in October, before returning following the sacking of the then sports minister.
Equatorial Guinea, the lowest-ranked team at the Africa Cup of Nations and competing in the tournament for the first time, have been drawn in Group A with Zambia, Senegal and Libya.