Manchester City boss Roberto Mancini praises Yaya Toure
By Phil McNulty
Chief football writer at the Etihad Stadium
Last updated on .From the section Football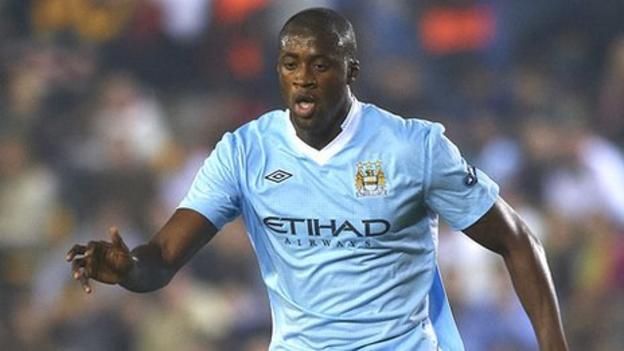 Manager Roberto Mancini believes midfielder Yaya Toure is irreplaceable in the Manchester City squad.
Toure scored City's second goal as he impressed in the 3-0 win over Liverpool at the Etihad Stadium on Tuesday.
The 28-year-old is scheduled to join up with the Ivory Coast for the African Cup of Nations after City's FA Cup tie with Manchester United on Sunday.
"I have tried to find another Yaya in my squad but there isn't another Yaya," said Mancini.
"He is a very important player. For this reason January is a big month.
"If we can stay on the top of the table after January then I think we have a very good chance to win the league."
Toure, who scored the winner in both the FA Cup semi-final and final last season, has been a pivotal figure in City's midfield since joining in 2010.
Sergio Aguero opened the scoring for City against Liverpool, before Toure added the second with a header.
The hosts had Gareth Barry sent off for a second booking but James Milner's penalty rounded off the win, as Mancini's side bounced back from Sunday's 1-0 defeat at Sunderland.
The Italian added: "I didn't think we deserved to lose the game at Sunderland so it was important to win this game. We had some problems in the second half but we did a good performance.
"I did not agree with the referee for Barry's second yellow card.
"I didn't understand. I watched the games on Monday and there were a lot of tackles without yellow cards.
"You play one important game like this evening and we lose one player for nothing."
The win over Liverpool gave City a three-point lead over Manchester United at the top of the Premier League, with Sir Alex Ferguson's side travelling to Newcastle on Wednesday.
Tottenham, who beat West Brom 1-0 at White Hart Lane, lie a further three points behind in third.
"United is a strong team but we can only go our own way and try to win every game," said Mancini.
"It will be close from now until the end of the season and Tottenham are close as well."