Man Utd placing too much onus on Rio Ferdinand - Mark Lawrenson
By Phil McNulty
Chief football writer
Last updated on .From the section Football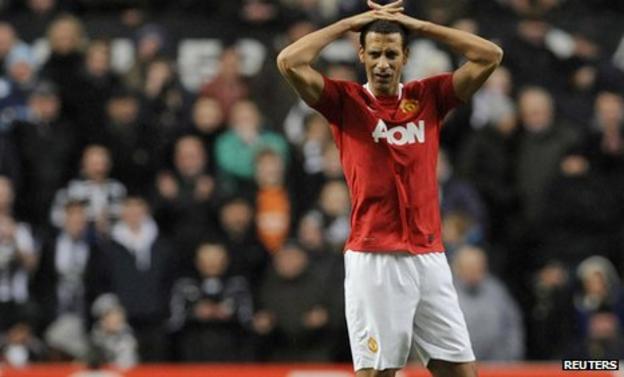 Mark Lawrenson believes that the loss of the injured Nemanja Vidic has forced Manchester United to rely too heavily on the ageing Rio Ferdinand.
Ferdinand, 33, has played 13 of United's 20 league games this season.
He and Phil Jones were given a torrid time by Demba Ba and Shola Ameobi in Wednesday's 3-0 defeat at Newcastle.
"Rio is coming slowly towards the end of his career. But the biggest problem is that Vidic is not playing," Lawrenson told BBC Sport.
"He is the rock and I do not believe, if he had been playing at Newcastle, Demba Ba would have been so spectacular. Newcastle's strikers terrorised Jones and Ferdinand.
"Because there is no-one else available, he is having to play every match. It is a simple fact that he is much nearer to the end of his career than the start.
"I am not saying for one second he is finished because, as you get older and your pace goes, you get wiser. The problem at Manchester United is that you are playing against some players who are seriously rapid.
"The difficulty United have with Rio is getting him fit and keeping him fit and you do take longer to recover as you get older."
United's defence has come under close scrutiny after conceding three goals for a second successive game, having been beaten 3-2 at home by Blackburn Rovers on New Year's Eve. And, following Ferdinand's return at St James' Park after three games out, there was much focus on the performances of both him and 19-year-old Jones.
With Vidic ruled out for the rest of the season following knee surgery, BBC Sport pundit Lawrenson admits that United's resources are being stretched.
"Don't get me wrong, he is still a good player," added Lawrenson. "But the one player United did not want to get a long-term injury was Vidic.
"You cannot underestimate the difference it makes to United, or the difference it would make to any side, to be without a player like Vidic. It was a massive blow.
"To be fair, the problems were not just in defence on Wednesday. It was a very impotent Manchester United we saw at Newcastle and a very poor performance."
Ferdinand still has hopes of making Euro 2012 with England - and Lawrenson's belief is that coach Fabio Capello will not rush into making a choice over his involvement.
"You don't need to make those decisions in January," he said. "You see how many games he plays and how things are going in May."
Jones has been impressive since his £16m summer move from Blackburn, but Lawrenson is convinced that he would have been afforded a breather had United had more defensive resources.
"He is an outstanding young player and has done fantastically well, but I think if the likes of Chris Smalling, Jonny Evans and Vidic had been available to Sir Alex Ferguson, he would have given the lad a rest," said Lawrenson.
Ferguson has until the end of January to decide whether to add reinforcements, but Lawrenson said: "He has got the players we have mentioned to come back and this is Manchester United.
"The players Sir Alex will want will be of Champions League quality - and you will find they will all be playing in the Champions League, so you are talking about a king's ransom there.
"He also hates paying over the odds, which is fair enough, so I don't see him reaching for the chequebook unless the right player that he really wants becomes available at the right price, which is absolutely right."