Kolo & Yaya Toure will miss Manchester City FA Cup tie
By John James
BBC Sport, Abidjan
Last updated on .From the section Football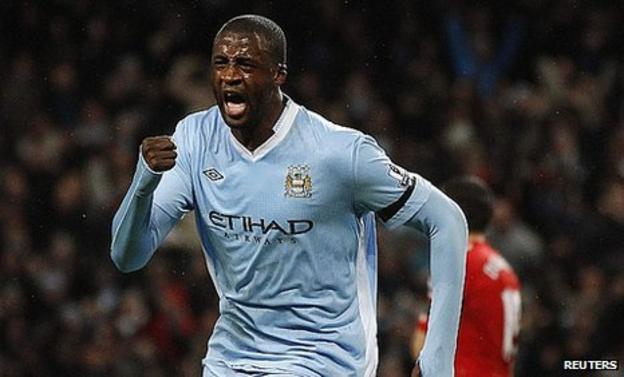 Ivory Coast coach Francois Zahoui has rejected Manchester City's request to play Yaya and Kolo Toure in Sunday's Manchester derby in the FA Cup.
"Clubs know the rules," Zahoui told BBC Africa. "I'm expecting them [the Toures] for the Fifa deadline."
Under Fifa rules, players can be called up two weeks before the start of the Africa Cup of Nations on 21 January.
City had hoped the Toure brothers would be able to play against United before joining the Ivory Coast training camp.
But Zahoui insists they report for a meeting in Paris on Saturday before flying out with the rest of the squad to Abu Dhabi for a two-week training camp.
"The national team in Ivory Coast is led by people who are well educated and I was surprised that people in England think that we don't know the Fifa rules about dates," Zahoui added.
"Here, when we call up the players, they are obliged to turn up at the date indicated by Fifa. So when we call them up we know that the clubs need to let them go."
Zahoui said he had travelled to England to discuss the matter with Manchester City boss Roberto Mancini and Arsenal manager Arsene Wenger, who will lose Gervinho to the Ivory Coast.
Gervinho has made 24 appearances for the Gunners this season since signing for £10.5m from Lille.
Zahoui warned managers not to turn the situation into a "stand-off" between club and country.
He added: "I said to the managers, 'Be careful because there's a great expectation here and we need our cohesion. We have our 10 days together and we need a team spirit at our training camp'.
"Arsene Wenger was my coach [at Nancy in France] so we have a close, respectful relationship. But even with him I said that the head of the Ivorian federation won't mess about.
"Don't turn this into a stand-off. Our call-up day is 7 January. I hope and pray they respect this date and that there's not a conflict between clubs and the federation."
The Toure brothers are pivotal players for Manchester City and started the 3-0 Premier League victory over Liverpool on Tuesday.
Yaya scored the winner in both the FA Cup semi-final and final last season, and has six goals in his last 13 games.
Kolo has displaced Joleon Lescott at the heart of City's defence since returning from a six-month ban for failing a drugs test.
Mancini, whose side host United in a third-round clash on Sunday, said the absence of both players would leave City stretched.
Gareth Barry is suspended, fellow midfielder Owen Hargreaves is not considered fit enough, while striker Mario Balotelli is troubled by an ankle injury.
It means City may only be able to fill six of their seven substitute slots on Sunday, according to Mancini.
"We have 17 players," said Mancini. "I do not know how it is going to work. I always said we could have a problem in January. In midfield, we have a big problem. On Sunday, we only have James Milner and Nigel de Jong available."
Zahoui's tough stance will also affect Newcastle midfielder Cheick Tiote and Chelsea forwards Didier Drobga and Salomon Kalou, who will all miss FA Cup third-round ties this weekend.
The 2012 Africa Cup of Nations includes 16 teams competing in Gabon and Equatorial Guinea between 21 January and 12 February.