Fecafoot to consider Eto'o case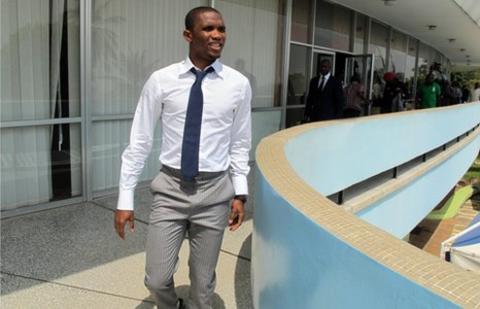 Samuel Eto'o's 15-match ban is set to be discussed by the Cameroon Football Federation's Executive Committee on Friday - even though it is not on the agenda for their meeting.
Eto'o was given the sanction after leading a strike by players of the national team in a row over late payment of appearance fees.
But the punishment sparked a storm in the country, with many fans and some national team players calling for Eto'o to be reinstated.
Even though the issue is not formally listed for discussion, any member of the committee can raise it and force a debate.
There is strong pressure on the federation (Fecafoot) to act, with reports that the country's president, Paul Biya has become involved - although that was denied by Fecafoot's spokesman.
Eto'o himself has not challenged the ban, which if it is left in place will rule him out of the whole of qualifying for the 2013 Africa Cup of Nations and a large part of the preliminary campaign for the World Cup in Brazil in 2014.
Because he has not made a formal appeal it would need an executive action from the committee to reduce or withdraw the ban.