Man City-Man Utd clash has a significance beyond FA Cup

By Alan Hansen
BBC Sport football expert
Last updated on .From the section Football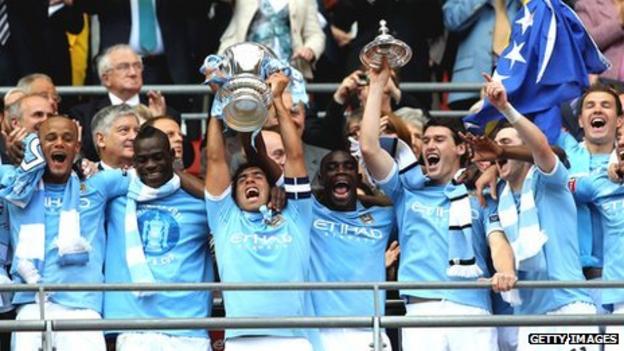 Manchester City meet Manchester United in the FA Cup third round on Sunday but this is a game with a definite Premier League sub-plot.
After the midweek league games, Manchester City will be feeling good about themselves as they prepare for the game at Etihad Stadium - in fact, I now think they will go on to win their first title since 1967-68.
Roberto Mancini's side responded well to their defeat at Sunderland on New Year's Day by beating Liverpool two days later.
In contrast, Manchester United were hugely disappointing in their 3-0 defeat at Newcastle United, even though history would have led us to expect a big response from a team wounded by their home defeat by Blackburn.
My feeling, even before United's defeat, was that City would win the Premier League. They have better players and more strength in depth than Sir Alex Ferguson's side, although they have yet to be tested over the course of a full season.
I have never, ever written off Manchester United. It is a dangerous game and they are only three points behind City.
But there may come a time when they will be too far back because of the setbacks they are having (losing Nemanja Vidic was a savage one), and the way they are playing.
The FA Cup will have risen up United's list of priorities after their exit from the Champions League and they have great history and tradition in the tournament. City, though, also have great recent memories as the holders after beating Stoke City at Wembley in May.
City will now have the Premier League firmly as their number one target, but progress in the FA Cup is never to be dismissed lightly and the winners of this game will take away one of football's most precious commodities: confidence.
So, in addition to tipping them for the title, I also think City will win on Sunday as they have strengths in key areas that will serve them well, not just this weekend but in the weeks ahead.
The importance of a reliable goalkeeper has been emphasised on both sides of Manchester this week.
Joe Hart played a crucial role in City's win against Liverpool with an early save from Stewart Downing and some fine handling in dreadful conditions, while Ferguson dropped David de Gea, his £17m summer-signing from Atletico Madrid, for the game against Newcastle after the Blackburn defeat.
Goalkeepers like Peter Schmeichel and Edwin van der Sar - who was so good last season you wonder why he retired - made the saves that won matches and kept United in competitions. De Gea was making mistakes that were costing goals so, eventually, Ferguson decided to go with Anders Lindegaard.
United have also had problems in defence. They haven't had a settled back four and the absence of Vidic has compounded this. Their last two games tell you all you need to know about the consequences.
When Vidic was playing, he was the best central defender in the Premier League; now he is not, that mantle can pass to Manchester City captain Vincent Kompany.
Mancini was right to say his side will miss the immense Yaya Toure when he plays for the Ivory Coast in the Africa Cup of Nations but I believe they would miss Kompany even more.
Kolo Toure, who will also be away in January, and Joleon Lescott are decent central defenders but Kompany is of the highest class both as a player and a leader.
Yaya Toure will be missed but City are well blessed in midfield. If they lost Kompany I am not so sure they could cover his absence so easily.
That said, Yaya Toure has been magnificent for City.
For all the talk of his power and pace - and let me tell you there is plenty of that - you get natural ability as well. I am well known for studying defenders when goals are scored, but look at Toure's header for City's second goal against Liverpool. It was magnificent.
So while attention inevitably focuses on City's gifted attacking front four and people like Mario Balotelli, David Silva, Sergio Aguero, Samir Nasri and company, these two players are hugely influential.
Another backdrop to the game will be City's 6-1 win at Old Trafford earlier this season. Will United be fired by feelings of revenge? I honestly don't think Ferguson will even talk about it in the dressing room.
When you have results like that, unless they happen on a regular basis of course, you sweep them under the carpet and forget about them. Managers and players do not talk about teams they have bad results against. No manager will put seeds of doubt in the minds of his own players.
Mancini and City will mention a win of such magnitude because you are only too happy to use the good results you have had as a motivational tool.
So while the FA Cup is important, I think the wider context for both teams will be the title race - and it is advantage City at the moment.
One word of caution though: crunch time is not January, it is mid-March onwards. The pressure will be on City because this is all new to them, while United will feel pressure of their own because if they don't win the title it will be regarded as a disappointing season.
If the two teams are coming down the stretch together, you can bet your life Ferguson will be telling his players "City will fold". He may not even believe it but I am sure that is the message he will be giving if United can just recover some of their poise and get the show back on the road again.
But City will take great heart from the manner of their win against Liverpool.
They have not been moving the ball quite as quickly in recent weeks, but you cannot play like they were for 60 games a season and they were so solid on Tuesday. Liverpool had more possession for long periods but City were well organised and disciplined, and defended superbly.
It will be a huge occasion on Sunday and the sort of game a wonderful competition like the FA Cup deserves - but there could also be wider significance for the Premier League in how it plays out.