Tamworth boss Marcus Law out to emulate David Moyes
Last updated on .From the section Football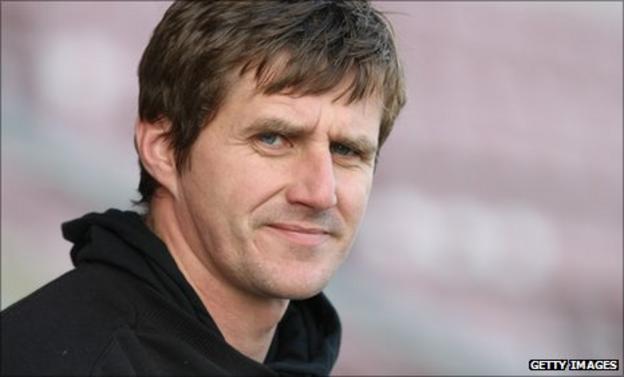 Tamworth manager Marcus Law has set his sights on emulating David Moyes as he prepares to take his side to Everton in the FA Cup third round on Saturday.
Former Kettering boss Law, 36, is only in his second season managing at Blue Square Bet Premier level.
But he is eager to follow in the footsteps of Moyes, who has forged an impressive reputation with the Blues.
"I want to be standing where David Moyes is week in, week out," Law told BBC WM.
"Whether or not that will happen, I'm not sure. It will be down to the football gods.
"It's a whole learning experience and it's going to be an enjoyable day.
"To pit my wits against an elite manager like David Moyes is fantastic. I will come away a more educated manager and coach come Sunday than I am now."
Whereas Moyes cut his managerial teeth with Preston before moving to Goodison Park, former Bristol Rovers goalkeeper Law has emerged through the non-league pyramid.
Following spells in charge of Coventry Sphinx, Racing Club Warwick and Quorn, Kettering plucked him from Barwell in October 2010.
He guided the Poppies to 14th place last season but left at the end of the campaign to take over at The Lamb on a three-year contract.
Law has wasted little time in making his mark, guiding Tamworth into mid-table and into the third round of the FA Cup for only the third time in their history.
Then-Championship sides Stoke and Norwich claimed their scalp on those previous occasions, but Law is relishing the prospect of the Lambs taking on a Premier League club for the first time.
"It is fantastic for the town," said Law. "In the football fraternity it is a weekend when everyone is going to be focusing on Tamworth Football Club, so the people of Tamworth have a football team for the weekend they can be very proud of.
"I did speak at the start of the season at a heritage night that I wanted my players to be part of Tamworth's proud and very strong history. To do that within five months is absolutely massive."
Tamworth, who generally pull in home crowds of around 1,000, have sold more than 4,000 tickets for the trip to Goodison Park, with 30 official coaches booked to take fans to Merseyside.
And goalkeeper Jonathan Hedge is hoping that a positive display by the team will encourage some floating supporters to stick with them into the future.
"It's going to be a fantastic day out for them," said Hedge. "I've got a coach going from my own home in Rotherham full of family and friends. It's great support for the lads.
"We know we only get 1,000 at league games but we would like to think that if we put on a great display for 4-5,000 Tamworth fans that most of them will come back and support us in the future.
"That's what it's all about: the fans having a great day out, us having a great day out, but ultimately getting a positive result for the fans and the club."
No non-league side has beaten top-flight opposition in the cup since Sutton United knocked out Coventry City in 1989.
But Hedge is hoping that this is the time for Tamworth to make the headlines.
"Anything can happen in the FA Cup," he added. "There is always one person that grabs the back pages and hopefully it will one of our players.
"Whether it is a last-minute save, a last-minute winner or a last-minute equaliser, hopefully it will be one of our players on the back of the newspapers come Sunday morning."