Vladimir Romanov says SPL 'jumped gun' over unpaid Hearts wages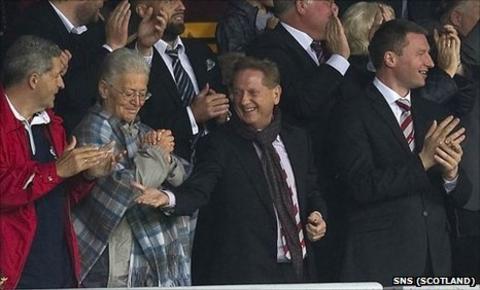 Vladimir Romanov says the Scottish Premier League succumbed to media pressure when it issued Hearts a warning for unpaid player wages.
And he again stated that he would no longer be putting money into the club.
The SPL ruled against Hearts after a complaint via the players' union.
"Everyone knew, including players, media and SPL that the wages are going to be paid as soon as the money was received for Eggert Jonsson, who was sold last year," he said.
"But media still tried to create conspiracy plots about the team and managed to get a prompt and unwise decision from the SPL meeting, which the club asked it to postpone until next week in order to get the opportunity to pay the wages."
Romanov's remarks formed part of another scathing attack on the Scottish football establishment in which he compared the media to monkeys and a character in The Jungle Book.
"As such, I have not cheated anyone," said the Lithuania-based Russian businessman on Hearts' website.
"The monkeys tricked the SPL, fans and themselves and showed who is in charge of the football mafia."
Hearts announced on Wednesday that they had paid wages to their first-team squad due in December, but that only came hours after an SPL committee told the club they must do so by 11 January or face sanctions.
The SPL also instructed the Edinburgh club to pay this month's wages by 16 January, pay interest on the delayed wages, pay the claimants' legal expenses and the SPL's costs for conducting the hearing.
It had been the third month in a row of delayed wages at Hearts, but Romanov indicated that it was simply a result of the club having to work within its own budget without further input from himself.
"I thought I had expressed myself clearly - I am selling the club and I am not going to give any more money away," he said, returning to previous themes about a mafia that ensures Celtic and Rangers continue to dominate Scottish football.
"It is pointless to support showbusiness, not football. Hearts is now living out of its own budget.
"I have nothing to prove. Seven years ago, I proved that there was no football but only showbusiness.
"I am going to reiterate once again - I am not going to gift the club money any more.
"The only thing left for the club to do is to develop its own youth and attempt to enlighten people who have been deceived and held as part of a stupid crowd by Mowgli."
Hearts have won four games in a row despite the row over wages, a ban on comments to the media and the departure of three first-team squad members, including the sale of Jonsson to Wolves.
It is a process of cost-cutting that is likely to result in more players departing Tynecastle during the January transfer window.
"The progress is there. As soon as Hearts moved closer to the third spot, the monkeys start to squeal, lie and create conspiracy plots," added Romanov.