Fifa enlists crime gang informers to beat match-fixing
Last updated on .From the section Football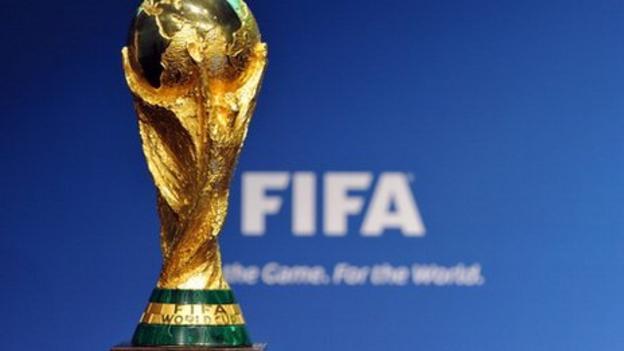 Fifa is liaising with informers inside organised crime syndicates to prevent match-fixing and betting plots.
World Cup qualifiers between nations unlikely to reach Brazil 2014 are believed to be at the greatest risk.
Up to 50 active national investigations, involving a quarter of Fifa's member associations, are currently ongoing.
"That's frightening," said Fifa security director Chris Eaton. "Let's do something about it and fight back."
He added: "Match-fixing can and does impact on qualifiers for Fifa competitions, and could impact on the global events themselves.
"What we're doing now is developing sources both in criminal organisations and football that will advise us."
Fifa will open a hotline for whistleblowers in February, offering rewards for information at the start of a three-month campaign.
"In 2012, players, officials and even administrators will have a place to go - even anonymously - to tell their story, and that's with the commencement of the amnesty, rewards and hotline programme," said Eaton.
"There will be a website, telephone number and a dedicated email-address - in all languages."
Eaton said organised crime had an interest in match-fixing because football generated an "enormous gambling interest".
"Over 90% of sport-related gambling in south-east Asia is on football matches, particularly international contests," he continued.
"This is about international - transcontinental in fact - organised crime.
"We see the footprints of Singaporean criminals throughout Europe, Africa and Central America.
"The infiltration of serious criminals into our associations and football generally is the most pressing issue.
"We are creating a hostile environment for match-fixers to make them realise we will expose them."