Hearts and Rudi Skacel hold talks over future
Last updated on .From the section Football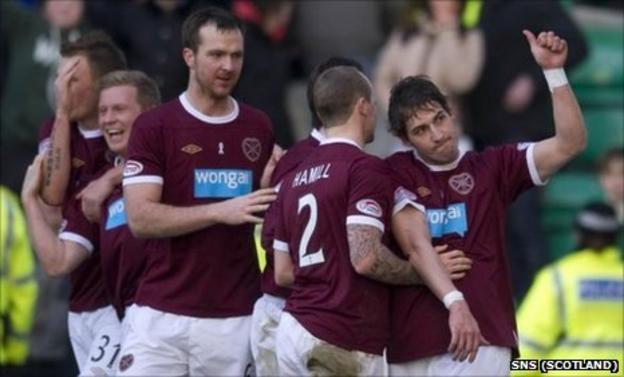 Hearts are in discussions with Rudi Skacel over his future and have ruled out an immediate move for the player.
Skacel's contract at Tynecastle expires at the end of the month and Crawley Town had launched a bid to sign him.
"Whatever happens the player will not leave Hearts for free before the natural termination date of his contract," a club spokesman said.
"We expect talks to take place over the forthcoming weeks and be concluded by the end of this month."
Crawley's audacious bid to sign the 32-year-old appeared to be doomed when the midfielder indicated that he had no intention of moving to England's League Two.
Skacel - in his second spell at Tynecastle following stays at Southampton, Hertha Berlin, Slavia Prague and Larissa - has scored five goals in 20 appearances this season, but nine of them have been as substitute, the latest in Monday's 3-1 win over Hibernian.
"I do not like talking about players that we have an interest in signing," Crawley manager Steve Evans told his club's website earlier this week.
"But, as it looks like the news is out, yes, I can confirm we have made an approach to Hearts.
"He got 13 SPL goals last season and he is always a threat around the opposition penalty box."
Hearts on Wednesday paid players their overdue wages from December but they have been told that they could face sanctions from the Scottish Premier League if they fail to deliver this month's salaries on time.
Midfielder Eggert Jonsson, who was sold to Wolves, striker Calum Elliot and goalkeeper Janos Balogh have all left Tynecastle since the wages problem emerged, while midfielder Ryan Stevenson withdrew his services in protest.
Manager Paulo Sergio has admitted he expects a difficult month with players leaving the Edinburgh club.