Dean Shiels likely to return to Doncaster from Kilmarnock
Last updated on .From the section Football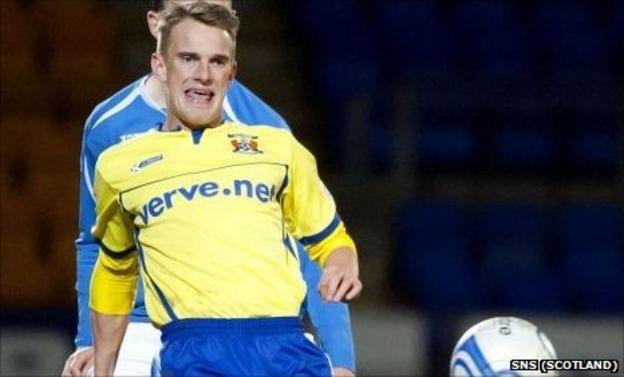 Kilmarnock manager Kenny Shiels has all but given up hope of extending his son Dean's loan spell at Rugby Park.
The Killie boss had hoped to retain the services of the midfielder, who has impressed with six goals for the Ayrshire club, until the summer.
But he is now prepared for the player to return to Doncaster Rovers when his loan deal ends on 16 January.
On the possibility of extending the deal, boss Shiels said: "I don't think it's going to happen, I really don't."
Defenders Patrick Ada and Billy Berntsson have been released, while striker Ben Hutchinson was allowed to leave for free to Mansfield Town, but savings from there are still not likely to be enough to secure the services of Shiels.
The Kilmarnock manager has held talks with Scottish agent Willie McKay, who has a key role in transfers at the Championship club.
"There is a lot of negative stuff coming out and it looks as though Doncaster are reluctant to let him stay," said Shiels.
"I was speaking to Willie McKay and they say they want him back.
"Dean's keen to stay. It's not dead in the water just yet, but it's heading that way."
Shiels is poised to switch his attention to other targets.
"I've been looking at players who would be similar to Dean, but I need to make a commitment one way or another," said the Kilmarnock boss.
"We are running out of time now."
His son's contract with Doncaster is set to expire at the end of the season, but the Kilmarnock boss admits the Ayrshire club would be unable to compete for his signature in the summer.
"It depends on what opportunities he has," said Shiels.
"He will have loads of opportunities. There are a lot of clubs looking at him at the moment.
"We are not going to have him next season."
Shiels will turn his focus on strengthening his squad this month.
"I've got a few people that I'm interested in," added the Kilmarnock manager.
"We probably need a defender and a creative striker and they are hard to come by. That's basically where we are at.
"There are three who have gone out so far, so it's just about balancing the budget."