Matt McKay should stay with Rangers - Craig Moore
Last updated on .From the section Football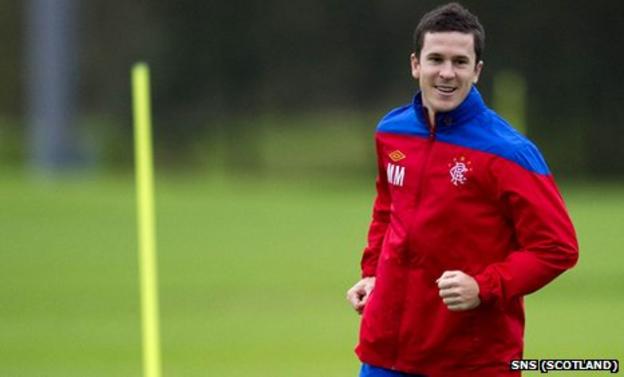 Former Rangers defender Craig Moore has backed Matt McKay to continue his battle to win a place at Rangers rather than return to their Australian homeland.
Australia midfielder McKay has made only three appearances for the Ibrox side since signing from Brisbane Roar.
And reports suggest the 28-year-old wants talks about his future.
But Moore told BBC Scotland: "For Matty McKay, it is very important that he keeps himself over here in Europe."
Before joining the Scottish champions, McKay had spent the whole of his career in Australia.
But, despite having already achieved 23 caps for his country, the midfielder thinks playing abroad is the best way to retain his place in the national side.
"The whole reason to come over to Europe was to strengthen his case for maintaining a position in the starting XI for the national team and also to go to the World Cup," said Moore, who advised McKay to join Rangers and keeps close contact with the player.
"So the wee man is here, he's trying his heart out and he's trying desperately to get into the side."
McKay's last appearance was in a scoreless draw at home to St Johnstone on 19 November, when he was replaced with John Fleck after only 64 minutes.
Moore finds it difficult to understand why his compatriot has found it so difficult to establish himself.
However, he hinted that it could be because McKay is being played out of position but played down the suggestion that the player could return to Brisbane, who he captained to the league and cup double, during the January transfer window.
"That option will always be spoken about because he has not been over here for long and he certainly hasn't established himself," said Moore.
"For me, he is a fantastic player. He is a box-to-box player, left of the midfield, not a wide left.
"He has not had too many opportunities, which is a shame.
"But he is a determined wee fella and he's in there and he's trying his heart out and he'll continue to do so.
"He's desperate to work his way into that team."
Moore, who had two spells at Ibrox, is back in Scotland on a fact-finding mission after setting up a football business in Australia following his retiral as a player.
"The idea behind it is to try to encourage as many kids as possible to get involved in the game," he explained.
"I am in discussions with our PFA, the Players' Football Association in Australia, to head up their player management department."
Moore says, with only 10 professional teams in the A-League and no relegation to a structure below, it is important that Australians play abroad to help the national side stay ahead of emerging Asian nations in the race to qualify for future World Cups.
He believes his own contacts - he also played for Crystal Palace, Borussia Moenchengladbach and Newcastle United - can help that process.
"For me, it is not so much getting the deals, it is important where you place players and how they develop," he added.
"I am looking at them coming back and being involved with our national team and, if they are not playing week-in, week-out, regularly wherever they are, they are of no benefit to our nation.
"So it is important that we place them well."