Everton defender Phil Jagielka out for six weeks
Last updated on .From the section Football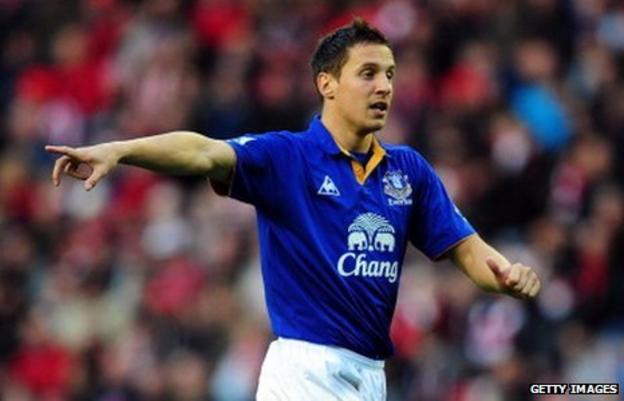 Everton boss David Moyes wants to sign a central defender in the January transfer window after losing Phil Jagielka for up to six weeks.
Jagielka, 29, injured medial ligaments in his knee during Wednesday's 2-1 defeat by Bolton at Goodison Park.
"To lose him [Jagielka] is a massive blow because he is an integral part of the defence and it leaves us short at centre-half," said Moyes.
"We are looking but it will more than likely be in the loan market."
England international Jagielka, who has made 19 Premier League starts this season, injured his left knee in 2009 and spent nearly a year on the sidelines.
"Losing Jagielka is an incredibly big thing for us because the team have been very strong defensively," Moyes continued.
"Whether it has been Jagielka with Sylvain Distin or John Heitinga that has worked really well for us."
Distin and Heitinga are Everton's only recognised senior centre-back pairing but a lack of money is restricting Moyes's search.
"It is going to make it difficult to cope for that time with two central defenders," said the Scot.
"We know we don't have great finances so we know it will be a problem to do that but if we see anything out there that we think is right for us we will obviously try to get it."
Moyes, whose side is currently 11th in the Premier League table and face Tamworth in the FA Cup third round on Saturday, added that four other players are carrying injuries.
"Leon Osman has a floating bone in his knee which we think will have to be taken out," he said.
"We have a few other injuries kicking around as well - Tim Cahill, Ross Barkley (knee) and Jack Rodwell (hamstring).
"Jack's had a recurrence of his hamstring injury. It is not serious but every time we get him scanned it is a grade one and very light and he comes back and doesn't feel anything.
"We maybe just need to give him a week or so longer to make sure he is right this time."