Hearts' future more important than league standing - Sergio
Last updated on .From the section Football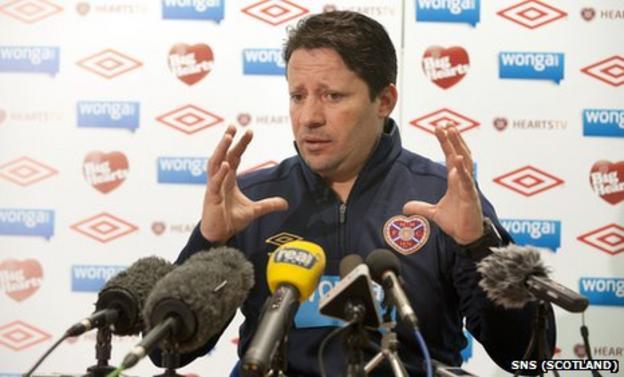 Manager Paulo Sergio says safeguarding Hearts' future is more important than where they finish in the league.
And the Hearts boss believes this has meant revising their priorities for the rest of the season.
"The main thing is not to go to third or second place, but to put the club in a good position to survive and rebuild," he said.
"This will change our goals but even in this position I want to be competitive and I believe I can do this with some young players and some things we can change."
"If you look to our season, in the moment we are reaching a very good level.
"In the moment if I lose two, three, four players, we can be in trouble again. It's not the way that we should work in football but it's what we have in our hands so let's be clever, let's understand the situation and try to do our best.
"And nobody can put a knife in my neck saying 'hey, you have to finish third or second' with the conditions that we are working [under]."
While the Hearts boss accepts his players could be sold in the present transfer window, he does not wish for any of them to depart.
Striker John Sutton is among those linked with a move, having joined last summer.
"We had a meeting three or four weeks ago and it's very clear for everybody in the club that we have to reduce costs.
"At this moment I don't want to lose any player that I have in my squad. I have already lost Eggert and for a different reason Ryan Stevenson.
"Of course I don't want to lose players, but it's not my decision."
And despite financial uncertainties Sergio expects Hearts to satisfy the Scottish Premier League's demands over delayed payment of player wages and avoid facing sanctions.
After a series of payment delays this season, December's wages were paid to the first-team squad on Wednesday on the day the SPL issued a series of orders in a bid to end an impasse after three months of salary delays.
Should 16 January go by without salaries being delivered to players on schedule, SPL disciplinary proceedings would be triggered with an unlimited punishment possible.
"I don't believe that is going to happen, because I believe they are going to be paid," Sergio said.
"I feel people are fighting to put the club in order."
"I believe a man like Romanov who has lots of businesses, he chooses people to find solutions for problems. In each business he has a board to find a solution.
"I'm sure we are not going to let die a club like this one."
Since the first wage delay in October, Hearts have four wins from 11 matches - three of which have come in the current four-match unbeaten run.