Wayne Rooney: Manchester United deny plans to sell player
Last updated on .From the section Football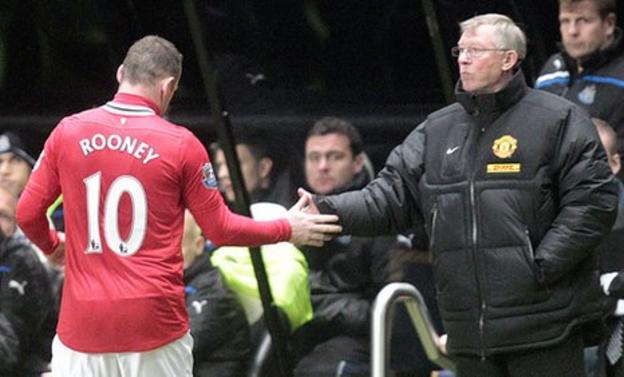 Manchester United have denied a report that Wayne Rooney is to be sold in the January transfer window.
Saturday's Independent claims Rooney's relationship with manager Sir Alex Ferguson has broken down.
Earlier this week, Rooney accepted a fine for his performance in training following a night out.
But a joint statement from Rooney and the club said: "Any suggestion that Manchester United and Wayne Rooney are to part company is complete nonsense."
The statement continued: "We can assure all United fans that the manager and the club are committed to Wayne Rooney and Wayne is committed to the manager and the club.
"The player and the manager have always had and retain utmost respect for each other and look forward to working together in the coming seasons."
Rooney himself said on Twitter: "The Independent are talking absolute rubbish, my future is with Manchester United and the club and I am totally committed, the manager and I have no issues and anyone who says different doesn't know what they are talking about."
Independent journalist James Lawton, who wrote the story, told BBC Radio 5 live: "I understand that the problems that Sir Alex Ferguson has experienced with Wayne Rooney going into a key time of the season has seriously undermined their relationship and there is a feeling that Ferguson has been deeply offended by the reaction of his most talented player at a pivotal time of the season."
When pushed about the claim that Rooney would be sold this month, Lawton attempted to defend himself: "The point I'm trying to make in the story, and I think it's a valid one, is that there is a real problem in the relationship between the Manchester United manager and his star player.
"I stand by the essence of what I've said in that there is a problem. Ferguson is famous for asking for trust and loyalty in his players and when that breaks, it can have a lasting effect. But if Rooney starts to perform to the level of consistent professionalism, which is a reasonable expectation, perhaps the crisis will pass."
Rooney, 26, agreed a new five-year contract at Manchester United in October 2010, just two days after announcing his intention to leave.
He went on a night out on Boxing Day with wife Coleen and fellow players Darron Gibson and Jonny Evans after his side's 5-0 win over Wigan.
But he was fined a week's wages and was dropped for the 3-2 defeat by Blackburn on Saturday before returning in Wednesday's 3-0 defeat at Newcastle, when he was substituted after 74 minutes.
Earlier on Friday, Ferguson refused to discuss the matter at his press conference to preview Sunday's FA Cup third-round tie with Manchester City.
Indeed, Ferguson offered only the briefest of responses to questions about the reason for Rooney's below-par performance in the midweek game.
"It is not a crime to try too hard," said Ferguson when asked whether his star player's desperation to succeed was the issue.