Hearts manager Paulo Sergio calm during Auchinleck test
Last updated on .From the section Football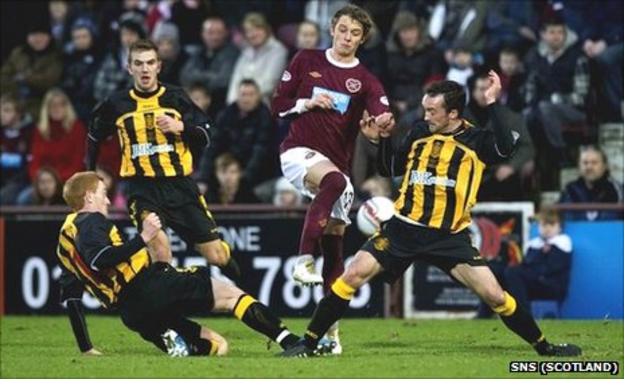 Hearts manager Paulo Sergio denied that he was feeling nervous watching his side struggle to break down junior side Auchinleck Talbot in the Scottish Cup.
The Scottish Premier League side made to work hard for their fourth-round 1-0 win, but for Sergio the result was not in doubt.
"It was not a close match. It was 90 minutes of Hearts attacking, playing in the Auchinleck midfield," he said.
"When you are doing that, you are not nervous; you are expecting to score."
Andy Leishman had been the junior team's hero as his saves, including one from a Fraser Mullen penalty, kept the score goalless.
But with six minutes remaining, he and captain Bryan Slaven were involved in a mix-up that allowed Hearts' Gordon Smith to score the winner.
And in the fifth of eight minutes of stoppage time, Talbot's Gordon Pope thought he had scored an equaliser but his strike was ruled offside.
"I have to congratulate our opponents because they made it hard for us but I knew that before the game," Sergio told BBC Scotland.
"I had experience of this in Portugal with a small team when we went to a cup final.
"I said to my players before the game, 'Don't believe that it will be easy. People are expecting us to win 10-0. It is never like this.'
"If you don't score, the other team starts believing."
The Hearts manager had made eight changes to his team that had won three of their last four SPL matches.
But he scoffed at the suggestion that he had under-estimated the challenge Hearts would face in making so many switches.
"I believe in my young players," said the Portuguese boss.
"It's in these kind of games that we can give them a chance to prove themselves to see if we can count on them in the future.
"I needed also to let some players recover from their injuries.
"I know when we change too much we always take a risk.
"I believe that some of them can do better than they did today and I know that with this kind of experience they are going to give good things to Hearts in the future."
One frustration for the Hearts manager and the fans inside Tynecastle was their failure, for the fourth time on the trot, to convert a penalty.
Mullen, an 18-year-old full-back making his debut, clutched the ball to try to put Hearts ahead after 20 minutes.
But his weak shot was turned round the post by Leishman.
Asked if it might have made more sense for a more experienced player to have taken the kick, Sergio replied: "I didn't take that decision.
"I was screaming to Scott Robinson to pick the ball up.
"But the young lad does it in the Under-19s and does it very well so I was pleased with his courage to pick the ball up and I was pleased with his performance, he played very well.
"But it's something we need to look at carefully because we cannot afford to be missing penalties like this. I think it's a Guinness record!"