Reaction to Neil Warnock's QPR exit
Last updated on .From the section Football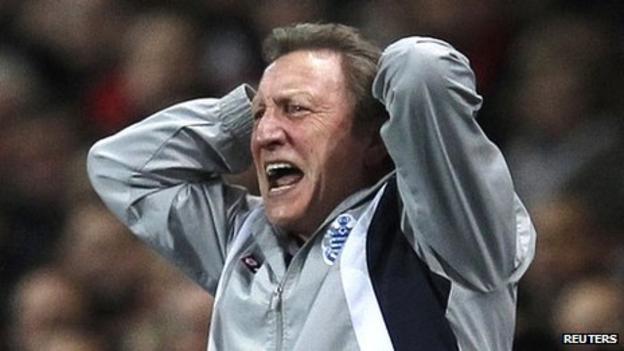 Neil Warnock has left his role as manager of Queens Park Rangers after a little more than 18 months in charge of the west London club.
The 63-year-old guided the Hoops back into the Premier League last season for the first time in 15 years, but four wins in 20 games this season has left them just a point above the relegation zone. On Saturday, QPR narrowly avoided elimination from the FA Cup courtesy of a last-minute goal to secure a 1-1 draw at MK Dons.
Neil Warnock, via a statement on the club's website: "Obviously I'm very disappointed, but having achieved so much, I leave the club with a great sense of pride.
"I have enjoyed my time here more than anywhere else and the QPR fans have been brilliant with me - they deserve success.
"My biggest regret is that the takeover didn't happen earlier, because that would have given me the opportunity to bring in the targets I'd pinpointed all last summer and probably given us a better chance to succeed in the Premier League.
"The board at QPR are hugely ambitious and I wish them every success for the future.
"I've been involved in the game a long time and I will be spending the immediate future with my family and friends before deciding my next career move."
QPR chairman Tony Fernandes via Twitter: "Very very hard decision. I will continue to be open and as transparent as I can. The board and myself had to put the club first.
"We had to think of the future of the club. I appeal to all fans to give us time and understand the future.
"I love stability and I think Neil did an amazing job to get the club up. We are in a good position to judge and this club is very close to our heart.
"It's a nightmare for me. But I take the good with the bad and continue to be open to all QPR fans.
"Trust me, in my 47 years of life I have never had to make such a tough decision. But I [have] got to do what I think is right. It's tough being a leader, but decisions have to be made for the club - which in the short time I have grown to love ever so much.
"Easy to call me an idiot. But it's harder to make decisions. (It) may be the wrong one and I'll be the idiot and I'll go but at least I'll stand up and be counted.
"Not expecting all to be pleased but as a leader I have to make decisions. Indecision will kill everything. Time will tell if its the right decision."
QPR captain Joey Barton on Twitter: "Gutted to hear about the manager losing his job. We have to stick together as a club at times like these and believe in those above. As a football club, we must look forwards now and try our utmost to attain Premiership status for next season. 'The king is dead........' Strange game this, commodity based industry using human beings as those commodities. Its the nature of the beast."
BBC pundit Mark Lawrenson: "I do feel sorry for Warnock, as I do when anyone loses their job, especially as he took them up automatically from the Championship in some style under very difficult circumstances, but Fernandes has spent his money and clearly wanted better.
"But Fernandes is clearly a man with ambitions and new owners often want new managers, their own managers. If you buy a new house you sometimes want new furniture and this is often the case with owners and managers in football."
Former QPR manager Ray Wilkins: "The owners will have taken this decision with a heavy heart. QPR did wonderfully well last year - going up as Championship winners was a terrific effort.
"But it's a results-driven game and you do need to be picking up points. Unfortunately things aren't quite going their way in the Premier League.
"Obviously there has been a disagreement somewhere along the line and they have decided to part ways.
"They had a sticky cup tie yesterday - perhaps that was the last straw.
"[QPR chairman] Tony Fernandes made a very big decision along with his board and it will be very interesting to see how the new manager coming in does."
Ex-QPR manager Iain Dowie: "The biggest surprise is given he brought them up last year in fantastic fashion he would be given a bit more time than most - they're not in the relegation zone. I thought he would have given Neil a window to bring in some players and see how he coped after that.
"When you look at what Norwich, and particularly Swansea, have done in terms of no budget they look very comfortable, so because you're in the [transfer] window now whoever comes in has been guaranteed money to spend whatever happens.
"I just think it's a very harsh decision on Neil Warnock. It's obviously a clean brush because [assistant manager] Mick Jones and [first-team coach] Keith Curle have gone as well, so I don't know if someone is lined up or whatever but, nonetheless, it's a difficult day for Neil and his family and he deserves a huge amount of respect for the job he did there."