Cliftonville beat Glentoran in battle to sign Liam Boyce
Last updated on .From the section Football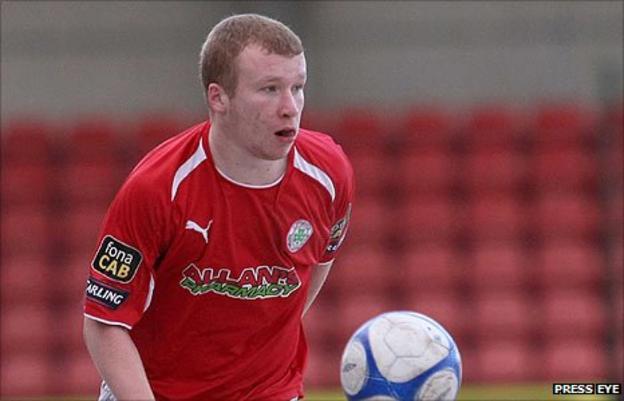 Liam Boyce has signed a two-and-a-half year contract with Cliftonville after rejecting a move to Glentoran.
The Northern Ireland striker was linked with the Glens after attending their match on Saturday and talking to Oval boss Scott Young.
But the 20-year-old has decided to restart his Irish League career with his former club the Reds.
Boyce scored 18 goals in 52 appearances for the Solitude club before moving to German side Werder Bremen in 2010.
The 20-year-old made his debut for the Reds in October 2008 before transferring to Werder Bremen on transfer deadline day in August 2010.
Four days earlier, he had scored the last of his 22 goals in a 3-1 victory over Crusaders.
"I always knew I hadn't played my last game for Cliftonville," he said.
"I'm really pleased to have signed again and, having spent the last few months training with the Reds, it's brilliant to be in a position where I'll be working towards actually playing on a Saturday.
"I had always kept in touch with the lads when I was away and, now that I'm back, I want to play my part in helping this club win things because it's what everyone deserves."
Manager Tommy Breslin, who is preparing the team for Saturday's JJB Sports Irish Cup Fifth Round tie with Ards, expressed his pleasure at bringing the 2009-10 Carling Young Player of the Year back to Solitude.
He said: "Liam is a real talent and everyone at the club will be very happy to hear that he has re-joined us.
"The fans here have always loved him and I'm sure they'll be over the moon with this news.
"As a manager, I'm looking forward to having such a quality player to work with and I'd like to thank the Management Committee for their work in ensuring we have been able to make his return happen."
Chairman Gerard Lawlor was also thrilled to have concluded the deal.
"We have been working on this for the last two months or so and I'm absolutely delighted that we can call Liam Boyce a Cliftonville player once again," he said.
"Liam had offers from other Irish League clubs but, when he left for Bremen, he always made it clear that the only Irish League club he would sign for was Cliftonville and he's been true to his word."
"He likes the club and he gets on well with all the players," said Cliftonville manager Tommy Breslin.
"We have been looking after him for the last five weeks, giving him training facilities."
At the weekend Boyce, who was released by Bremen in October, was at the Oval with his agent.
"I told Liam how much I would like to see him at Glentoran," said Glens manager Scott Young before the player opted to sign for the Reds.
"There are three or four players I would like to bring to the club during the transfer window but it is all down to finances."
Young said the Oval directors were aware of his desire to bring top quality players to the Glens during the January transfer window.