Chelsea boss Andre Villas-Boas backs Rangers to win SPL
Last updated on .From the section Football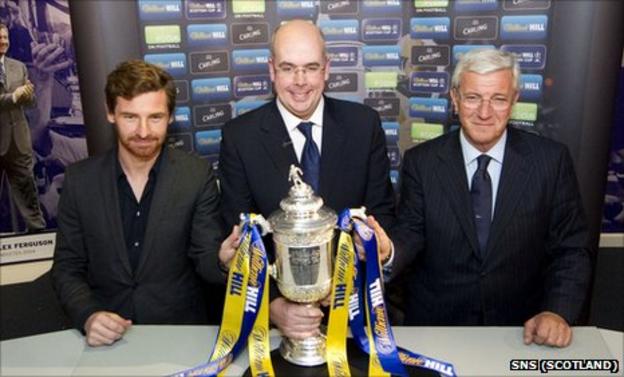 Chelsea manager Andre Villas-Boas believes Rangers will turn around their poor run of form to re-take the top slot in the Scottish Premier League.
Attending the draw for the fifth round of the Scottish Cup, Villas-Boas said Ally McCoist could win the title.
The Portuguese earned his coaching licenses in Scotland and became friends with McCoist during his time there.
"I'm sure they will do everything to turn the league around and be declared the champions," said Villas-Boas.
Rangers are sitting in second place behind SPL leaders Celtic, who enjoy a two point cusion, despite having trailed by 15 points as recently as November.
Villas-Boas commented that when he came to Scotland to earn his Uefa C licence in Largs he spent time with Rangers boss McCoist and first team coach Ian Durrant and became good friends with both.
"In the beginning, I came here because of conversations with Sir Bobby Robson and Jose Mourinho who had been here in the past," said Villas-Boas.
"That's why I decided to do both coaching courses - one with the English FA, and one with the Scottish FA.
"It was a great learning experience and I opted for the Scottish courses because they were open-minded to the European approach.
"They respected our input and our knowledge, and we discussed a lot of ideas. They were always open, and that's why I came back to do more."
He also said he understood the pressure on managers to produce results at big clubs like Rangers, having recently suffered a slump in form with Chelsea, but was confident that the Ibrox side would win their manager his first league title and a fourth in succession for the club.
"I have tremendous sympathy for Ally and Ian - who were my friends during the time I was here - and still are," said Villas-Boas.
"For Ally, it started in a little bit of turmoil for him, but he managed to show his talent and abilities to turn it around in the beginning.
"Rangers led the league for so much time, but people had written off Celtic in the beginning when they went into a run of poor results.
"Celtic managed to get it back in a short distance and overtake Rangers, but I think Ally and Ian will do everything in their power to turn it around."
The Chelsea boss also indicated that Rangers had not made any fresh approaches to procure players on-loan from Stamford Bridge during the January transfer window and nothing more had come of discussions which had taken place last year regarding potential moves.
"There hasn't been any contact recently," said Villas-Boas.
"That was a conversation we had at the beginning of the season and eventually nothing went through on that. We spoke about a couple of players but they went another way.
"Ally always showed interest in one or two of them but eventually decided to take a different route, which has proved to be a better one."