Southampton do not want to keep Jason Puncheon, says agent
Last updated on .From the section Football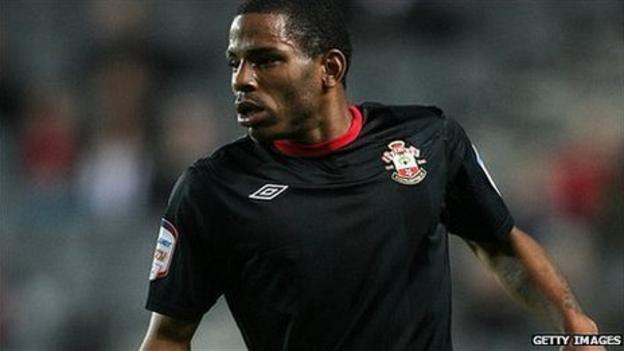 Jason Puncheon's agent Tony Finnigan says the winger is not wanted by Championship leaders Southampton, who are looking to sell the player.
Blackpool had a bid for Puncheon turned down last week which Finnigan said was "fair", and he added that several Championship clubs are "interested".
"I know Jason is not wanted at Saints and his future definitely lies elsewhere," Finnigan told BBC Sport.
"Blackpool made a fair bid last week which was subsequently turned down."
Puncheon, 25, returned from an unsuccessful loan spell at QPR last week having spent much of last season on loan at Blackpool.
He was signed by former Southampton manager Alan Pardew in February 2010 but fell out of favour with current boss Nigel Adkins.
And it would appear that having returned to St Mary's he has no future at the club.
"He's at Southampton but is training with the kids - they are looking at a permanent transfer," added Finnigan.
"I have no idea why they wouldn't accept Blackpool's offer. I won't tell any club what their player is worth but to be honest with you if he could go for 50p then I would be delighted.
"It wouldn't make any difference to me and it wouldn't make any difference to the player. Southampton need to get this player out of their hair.
"Blackpool manager Ian Holloway is a personal friend of mine and he said he made a fair offer for a player Southampton clearly don't want.
"When the manager tells me that, then I take his word for it. He said it was a very, very good offer. I have no idea if he will go back in with a new offer."
Finnigan added that as well as Blackpool's offer there are other Championship clubs interested in the former MK Dons player.
"There are Championship clubs fond of him and he has a lot of admirers and we need a happy ending for both parties," he added.
Finnigan says he has no idea why Puncheon is not wanted by Southampton - but hopes the situation can be resolved.
"All I know is that the other players at Southampton respect him and enjoy him being around the place and he is a very good footballer," he said.
"But on the other side of that Adkins doesn't like him and that is his right.
"Let's just say his face doesn't fit and that's the way it is and it happens all the time in football."
He added: "He is clearly not wanted, there is no future there otherwise he wouldn't be training with kids.
"It is very difficult for him but he will remain to be professional. If he hasn't left by the end of the month and he remains a Southampton player then so be it."