Manchester City's Vincent Kompany warns of increase in red cards
Last updated on .From the section Football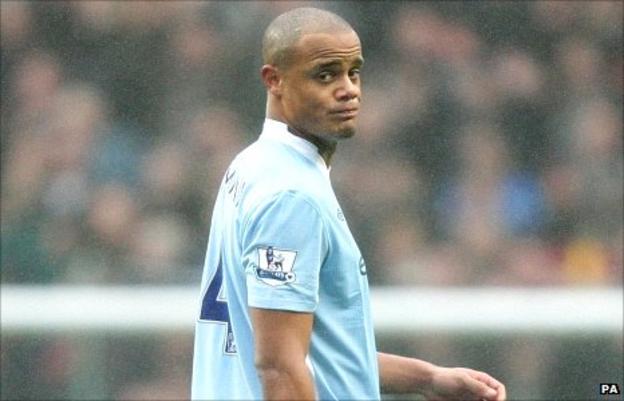 Manchester City captain Vincent Kompany has suggested his dismissal against Manchester United could trigger "an unprecedented wave" of red cards.
Kompany received a red card in Sunday's FA Cup third-round tie for what was deemed a dangerous tackle on Nani.
The Football Association (FA) rejected City's appeal against the dismissal.
"I wonder if we are now going to see an unprecedented wave of red cards because we sanction 'ifs' and 'maybes'?" the 25-year-old said on his Facebook page.
"Are we going to look back at video evidence for every single challenge that goes unnoticed by the officials, look at different scenarios and potential outcomes of what could have been considered a good tackle and then sanction it?
"Players and managers are starting to expect more sendings-off from referees and I think it's for the wrong reasons.
"I appealed because I obviously completely disagreed with the interpretation of the officials on the day but that happens in football and we move on."
The defender will serve a four-match ban, beginning with his side's Carling Cup semi-final first leg against Liverpool on Wednesday.
He will also be absent from the Premier League trip to Wigan on Monday and the home game against Tottenham on 22 January.
United manager Sir Alex Ferguson maintained that Kompany's tackle was two-footed and dangerous and therefore deserved the red card shown by referee Chris Foy.
However, City boss Roberto Mancini said he had never seen anyone sent off in similar circumstances in his 30 years in the game.
Kompany added: "My understanding is that English football prides itself on the hardness, the fairness and the tradition of its game.
"That is why hundreds of millions of people tune in to watch Premier League football and English referees have always been a key factor to that success.
"So I don't agree with people saying that referees in this country aren't doing well as I think they are the best in the world.
"Hopefully common sense will prevail again in the future and I for one hope not to see consistency in sendings-off and suspensions when the intent of a player is to win the ball.
"I'd like to add to this that I waited for the suspension to be confirmed before making any comments on the matter as I didn't want to give the impression that I was using the media as a tool to benefit my own personal agenda in this case.
"I'm not speaking on behalf of the club or anybody else, this isn't me defending myself, this is just me raising a genuine concern."
An FA statement said: "The suspension consists of a statutory three-match suspension for serious foul play plus one additional game given this is Kompany's second dismissal of the season."
The decision will further frustrate Mancini, who has defended his call for further investment after drawing scorn on Friday when he claimed the club would struggle to fill the substitutes' bench for Sunday's FA Cup game against United.
City have spent approximately £250m on new players since the Italian's appointment two years ago.
However, they are now struggling with a growing injury list with further players unavailable due to international duty.
David Silva is a doubt for Wednesday's home tie against Liverpool, along with fellow strikers Mario Balotelli and Edin Dzeko, while Yaya and Kolo Toure are involved in the Africa Cup of Nations.
Mancini was forced to name Abdul Razak and Denis Suarez, who have just six first-team appearances between them, on the bench against United and is now considering including 17-year-old Dutch defender Karim Rekik.
"All the people think we have a lot of players," Mancini said. "But we have 19, plus keepers. It is not a big squad.
"Until three weeks ago we didn't have any injuries. Now we have a problem."