Darlington could fold by weekend, say administrators
Last updated on .From the section Football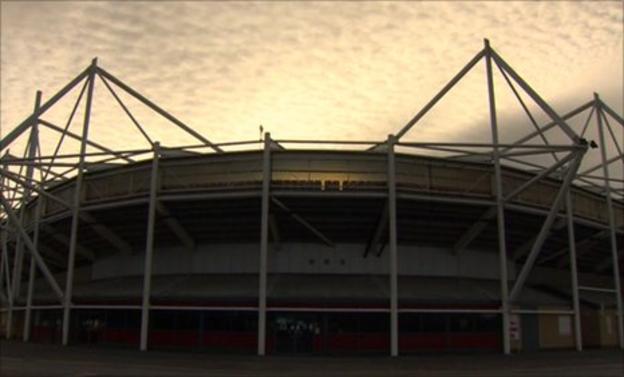 Darlington are likely to fold this week if no buyer is found, according to joint administrator Harvey Madden.
Despite a number of enquiries the administrators are yet to receive a suitable offer to buy the club, while funds are at a critical point.
"We've got some hard decision-making to do by the end of this week," Madden told BBC Tees.
"I've nothing to report on further income. I still don't have any real optimism in finding a buyer."
He added: "We're running on a shoestring. If it had not been for the goodwill of [caretaker manager] Craig Liddle and the players, the would not have gone ahead."
Madden has been "pleasantly surprised" by the volume of interest in the football club, .
"We have had a lot of tentative enquiries from all over the country," he said.
"Some of the consortia have included chairman of previous clubs, and it's not a slight on Darlington that they've pulled out.
"What we wanted to get from people was whether they had the wherewithal, the capital, and a number fell at the first hurdle, but a lot of people came back with requisite funds but decided not pursue it.
"I don't necessarily think it's putting people off in terms of knowing the amount of debt.
"I think some of the squabbles that appear to be long-running with the council, the owners of the ground etc, are not doing any good in terms of finding a buyer long-term."
One potential source of income for the Quakers would come from player sales, with Madden and his colleague Peter Gray rejecting a bid from Gateshead for striker Liam Hatch last week.
"If we feel, and I'm liaising very closely with Craig Liddle the manager, a suitable offer comes in for a player than we'd be foolish not to accept that offer.
"I've been speaking to one chairman this afternoon about the possible transfer of a player, and we've agreed to speak about pushing that deal through.
"I think it's fair to say all Darlington players are available at a price."
The full interview with Harvey Madden is available on BBC Tees Sport.