Jimmy Walker on the verge of Walsall appearance record
Last updated on .From the section Football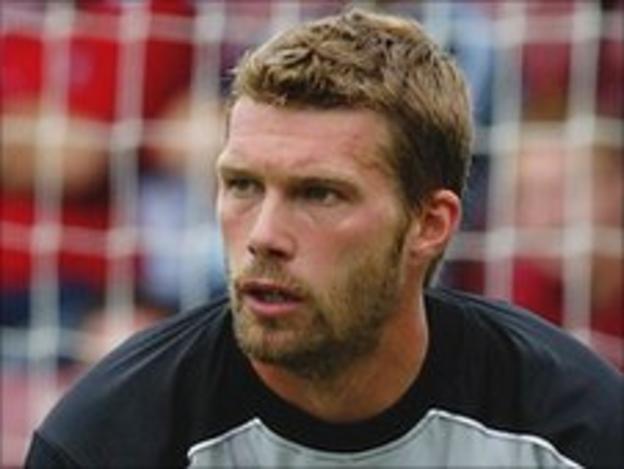 Veteran goalkeeper Jimmy Walker will break the club's appearance record, if he is named in the team to face Brentford on Saturday.
Walker has played 529 times for the Saddlers, meaning he is set to overtake Colin Harrison's achievement.
""It's something I'll be proud of, everyone knows my feelings for the club, I've had a fantastic time here," the 38-year-old told BBC WM.
"I've not really thought about it until the last few games."
Walker rejoined the League One side last season after six years with West Ham, Tottenham and a loan spell at Colchester.
And after helping the Saddlers escape relegation, he agreed to stay on for a 13th season at the Banks's Stadium.
"From the first day I came in I sort of felt at home - Kenny Hibbitt and Paul Taylor were the managers and they made me feel very welcome," noted the Sutton-in-Ashfield-born custodian.
"I think I was a little bit overweight at the time if I remember rightly, but I met [long-serving goalkeeping coach] Mick Kearns and enjoyed it from then.
"I persuaded Kenny to take me on their trip to Ireland, played a few games, and they signed me up after that."
One of the Saddlers players when he arrived at the club in 1993 is now the manager - Dean Smith - and his recollections of Walker's arrival are still fairly vivid.
"A little chubby lad he was, I remember it well. As soon as he started training with Mick Kearns he certainly lost a bit of that chubbiness and became a really established goalkeeper," Smith explained.
"He's had a great career here, and not many players will go on to do what he has done. He's a great lad, a great pro and has worked really hard for it.
"He came back to Walsall in our hour of need and played a huge part in helping us stay up last year. I let him beat me in a game of golf to see if I could get him tied up again for this year, and he's done equally well for us this season."
Walker's departure from the Banks's Stadium in 2004 was something of a wrench, and a serious knee injury curtailed his first-team chances at West Ham.
So it is not surprising he jumped at the chance to come back for a second spell at his home-from-home.
"It's a club I hold dear to my heart, and when I left it was the first club I looked for when it came to their results and I kept in touch with the players," he acknowledged.
Throughout his time with the Saddlers, Walker has had only one specialist coach in Kearns, and the former Walsall and Republic of Ireland keeper remains a big supporter of his long-time protege.
"The main thing about Jimmy is his consistency. If I look over all those games there are very few times that he has made mistakes and hardly any that've cost our games," explained the man who was Harrison's team-mate during the 1970s at the club's former Fellows Park ground.
"He's a great shot-stopper, he brings great composure, for a small goalkeeper he can be very agile.
"I think if it had been any other club he wouldn't have done it, I think it's his love for the football club that brought him back here.
"He's a bubbly character, he's always taking the mickey out of people - me being the brunt of it on some occasions. But I get my own back - you need characters like that in the dressing room."
Walker is now a veteran of three promotions and two relegations with Walsall, including a memorable play-off final victory over Reading at the Millennium Stadium in 2001 and he has not decided how long he will carry on playing for.
"I'm enjoying it, loving it, there's nothing better than playing. While my legs feel okay I'm more than happy to keep going," he added.