Luis Suarez apology was important, says Roberto Mancini
Last updated on .From the section Football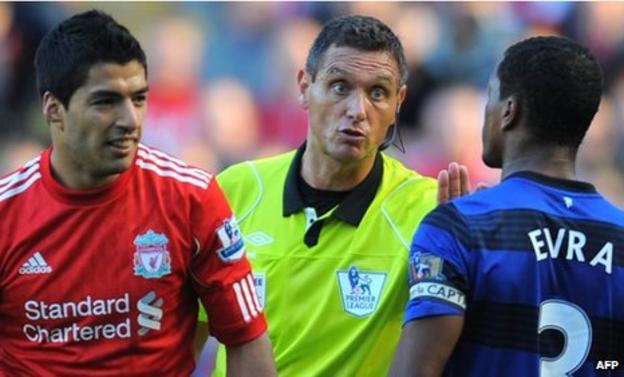 Manchester City manager Roberto Mancini says it was important that Luis Suarez apologised after he was found guilty of racially abusing Patrice Evra.
Ahead of City's Carling Cup semi-final first leg against Liverpool, Mancini said Suarez had "made a mistake" but does not think that the Uruguay striker should be labelled a racist.
Mancini added: "It is impossible that we are always perfect.
"Everything can happen because you don't think."
Suarez was handed an eight-match ban by an independent Football Association commission on 20 December - a decision that he did not appeal - and the player issued a general apology on 5 January. He will not play in either leg of the semi-final against City.
"Sometimes a situation like this can happen on the pitch," continued Mancini. "It is important to apologise for what he did.
"Sometimes on the pitch you can do something that you don't want to do. You are nervous. You don't think on the pitch.
"I don't think Suarez is a racist. He made a mistake? Probably, yes.
"Everyone can do a mistake sometimes. It is important to say, 'I am sorry, I made a mistake, I apologise for this and I accept the charge'."
The former Sampdoria and Lazio striker drew a parallel with his own 20-year playing career in Italy, where football has long had a battle against racism.
"I have heard everything said against me and I have said some things - but not important things like racist words."
Mancini was asked whether he thought Liverpool's players had made a mistake in wearing t-shirts in support of Suarez ahead of their match at Wigan on 21 December.
The Italian nodded in agreement, admitting: "Maybe a mistake".
The clubs meet in the two-legged semi-final for the right to play either Crystal Palace or Cardiff City in the final at Wembley on 26 February.