Mark Bowen hopes for Wales managerial continuity
Last updated on .From the section Football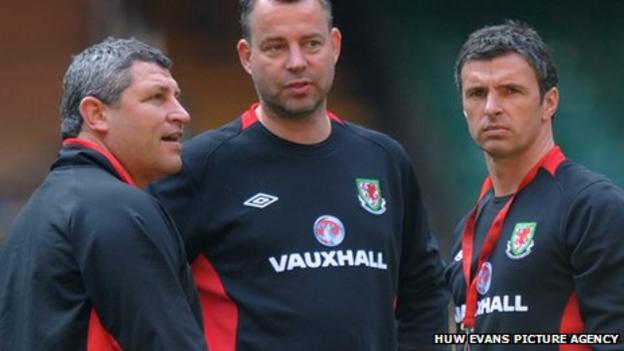 Former Wales assistant boss Mark Bowen believes Raymond Verheijen and Osian Roberts should be given the chance to continue with the national team.
The Football Association of Wales has assembled a six-man panel to appoint a successor to the late Gary Speed.
Bowen, a member of Mark Hughes's new managerial team at QPR, wants to see Speed's assistants continue.
"I'd like to think that the people already there are given a chance to continue the good work," Bowen said.
"It's moving forward very nicely from the fantastic work Gary and his staff already did."
Dutchman Verheijen, who has worked with the Netherlands, South Korea and Russia, has expressed a desire to continue with Wales.
FAW chief executive Jonathan Ford has said it is "too early" to say whether an appointment will be made before Wales' friendly with Costa Rica in Cardiff on 29 February
Wales captain Aaron Ramsey has said the players are unhappy they have not been consulted over the appointment of a new head coach to replace Speed.
The Arsenal midfielder said he wanted to see Verhaijen and Roberts remain in their roles, echoing the sentiments of international team-mate Gareth Bale.
And Bowen believes the FAW should consider the wishes of the players before deciding on who will lead Wales into the 2014 World Cup qualifying campaign, which begins against Belgium in September.
"If the players are thinking along [those] lines then maybe they have got to consider the fact of keeping Raymond and Osian there," he said.
"I know Raymond very well and his attributes as well. I can only say good things about Raymond.
"He's a knowledgeable coach. He's got a good solid background working with Guus Hiddink for many years. He's a student of the game and he's good at what he does.
"I don't know Osian that well. I've met him a few times and I've heard good things about him. He's a very good coach.
"I'm sure the committee and the chief executive, Jonathan Ford, will make the right decision for Wales."
Bowen said whoever the FAW appoints as Speed's successor, they will inherit a talented squad of players including Bale, Ramsey and Craig Bellamy.
The national side won four of their last five games under Speed and are now ranked 48th in Fifa's world rankings.
"Whichever way it goes the game these days is all about players," added former Norwich and Tottenham defender Bowen.
"Certainly the group of players there are proving to everybody the talent that they've got. They've been set on the right road by Gary and obviously his staff.
"I'm sure it will continue anyway because they look like a solid bunch of guys who are certainly very close together.
"Whatever way they [the FAW] go, Wales are in a positive frame of mind at international football at the moment and I fully expect it to continue whoever goes in there."
Former Wales defender Chris Coleman has said he would relish the opportunity to succeed Speed as the next manager.
The former Fulham, Real Sociedad and Coventry City boss, who has left his role as manager of Greek side Larissa, said he would be willing to work alongside Verhaijen and Roberts if he took over.
Stoke City manager Tony Pulis has admitted he would happily take temporary charge for Wales' friendly international against Costa Rica in February.
But the Newport-born boss added he currently had no aspirations about taking on the role full-time.
"Anything that would help in any shape or form in respect of Gary Speed, I would gladly do," Pulis said.
"I would have to speak to [Stoke chairman] Peter [Coates] first, of course, and if he didn't think it was right then fine.
"But if he was okay and they asked me for just a one-off game, then I'd do it out of respect for Gary.
"My main job remains at Stoke, but as I've said before, your national job is something you might look at in the future."