Middlesbrough's Kevin Thomson keen to seize new opening
Last updated on .From the section Football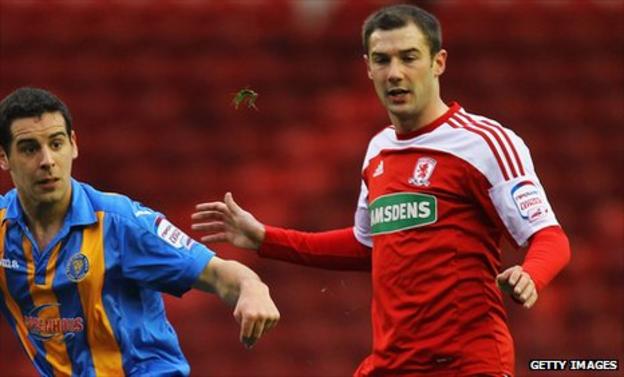 Middlesbrough midfielder Kevin Thomson is looking upon Nicky Bailey's absence as an opportunity to establish a regular first-team place.
"I feel for Nicky and he's a great lad," Thomson told BBC Tees.
"Somebody's disappointment is another's gain. It gives others an opportunity, and I'll take mine if it comes along."
The Scotland international continued: "I had a wee laugh and joke with Bails, because we've not actually played much football together since we came here.
"When I started to fly at the end of last season and was in the team, he was out with his ankle; and when Bails came back to do his pre-season I hurt my leg.
"Unfortunately for Bails it's the other way round this time."
Thomson made his return to the Teessiders first-team as a substitute in December's 1-0 home win against Brighton - to end a two-month absence with a hamstring problem.
Tony Mowbray has since tentatively introduced the Scotland international back into the side with two further appearances from the bench, before Saturday's FA Cup encounter marked a fourth start of the campaign.
"I want to play football - If people watch me train, they'll see I always come in dirty, I work hard.
"Unfortunately for me down I've not had much luck, but I've never wanted a cuddle, never wanted sympathy or a pat on the back," Thomson added.
"I just want to show people what I can do, I was getting there toward the end of last season when people were getting a bit excited about what I could do, but I knew I was nowhere near my best.
"Hopefully I can get a fair crack of the whip and show people the true Kevin Thomson."