Sudan name locally-based squad for Nations Cup
Last updated on .From the section Football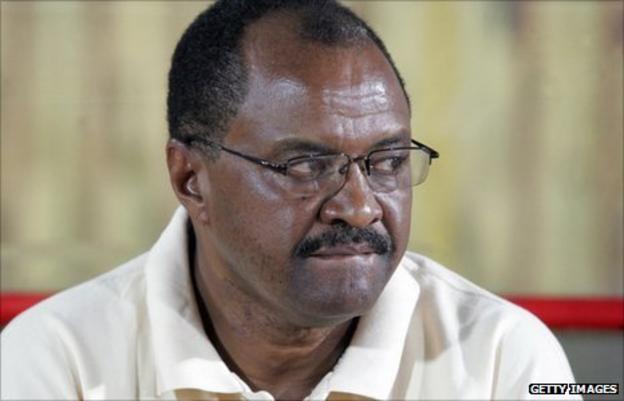 Sudan coach Mohamed 'Mazda' Abdallah has finalised his 23-man squad for the Africa Cup of Nations finals in Equatorial Guinea and Gabon.
With all the players based in Sudan it will be the only squad at the Nations Cup without an overseas-based player.
The Sudanese qualified for the finals as one of the two best runners-up in the qualifiers.
Mazda will be hoping to lead Sudan to their first win at the Nations Cup since winning the final in 1970.
He was also in charge four years ago as he led Sudan to their first Nations Cup in 32 years as they reached Ghana 2008.
Despite their poor record in Ghana, where they lost all three games failed to score and conceded nine goals, Mazda believes his side can each the last eight at the Nations Cup.
Sudan have been preparing in Dubai, where they lost a friendly 3-0 to Tunisia on Tuedsday and have now moved to Senegal for a training camp.
The Nile Crocodiles begin their campaign against Group B favourites Ivory Coast before taking on Angola and Burkina Faso on Equatorial Guinea.
Sudan squad:
Goalkeepers: Mahjoub El Moez (Al Hilal), Bhaldien Mohammed (Al Merreikh), Akram Al Hadi (Al Merreikh)
Defenders: Musab Omar (Al Merreikh), Ngemaldien Abdullah (Al Merreikh), Ahmed Al Basha (Al Merreikh), Bala Jaber (Al Merreikh), Mowaia Bashir (Ittihad Madani), Seifaldien Ali (Al Hilal), Khalifa Ahmed (Al Hilal)
Midfielders: Haitham Mustafa (Al Hilal), Baderaldien Aldoud (Al Merreikh), Faisal Musa (Al Merreikh), Amier Kamal (Al Merreikh), Nazer Hamed (Al Hilal), Mohamed Al Tahir (Al Hilal) Alaadine Yousif (Al Hilal), Mohammed Ahmed Bashir (Al Hilal), Mohammed Moussi (Al Nsoor)
Forwards: Ramadan Alagab (Al Mourada), Mohammed Sheikh Eldin (Al Hasahesa), Mudathir El Tahir (Al Hilal), Abdulrahman Hassan (Al Merreikh)