Hearts goalkeeper Marian Kello open to January move
Last updated on .From the section Football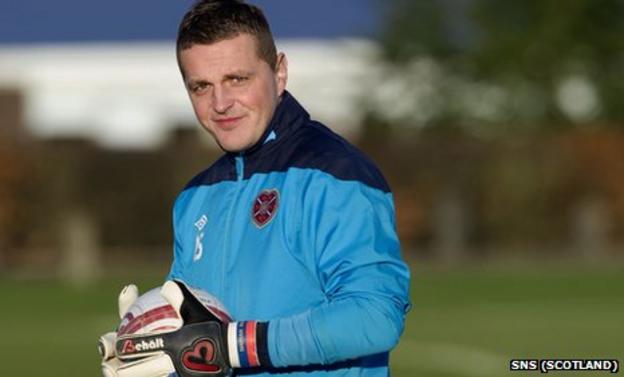 Goalkeeper Marian Kello would happily leave Hearts in January if the transfer money helps the financially-troubled club through difficult times.
"It's up to the club. If they really need money, I'm okay with that," said the 29-year-old Slovakian, who is out of contract in the summer.
"I want to help. They gave me a chance to play and it's been an honour.
"So if they ask me to go because of the money, I will go. I will pay something back, it wouldn't be a problem."
Hearts are aiming to trim their wage bill after paying players late for three consecutive months and with owner Vladimir Romanov no longer willing to subsidise the Edinburgh club.
Eggert Jonsson has been sold to Wolves, while Calum Elliot agreed to terminate his contract early.
"I'm still happy in the club, it's not like I'm trying to force myself out of here," explained Kello.
"My contract is up in the summer. I will maybe step forward to a higher level but I'm just waiting if something happens.
"I wish we could compete more with the Old Firm but the club is really good and it's going to be very difficult to leave if I move because I'm settled here and very happy."
Kello has not ruled out staying at Tynecastle, although he admits he would need assurances about the club's future.
"We had some chat but obviously I need to know where the club is heading and what's going to happen," he said.
"If everything is settled, we can start chatting again."
Asked if he would welcome a move to another Scottish club, he said: "It depends on the exact situation, it's a difficult question.
"I would have to consider many things and there are some other clubs as well."
Despite Hearts players having received all of their overdue wages, midfielder Ryan Stevenson remains absent after withdrawing his services before Christmas.
And fellow midfielder Rudi Skacel will be out of contract at the end of the month.
"January is going to be a very hard month for me because one morning I can wake up and lose one, two, three players, or maybe I don't lose any," said manager Paolo Sergio.
"I'm counting the days. I see every single day in the newspapers clubs and managers signing players, making their teams stronger and we can't do that.
"If we have good propositions I believe the directors will maybe make the deal.
"I believe that lots of people are thinking about our players. Until now there is nothing objective that I know.
"If you make a good deal and lose one or two players halfway through the month, maybe you can replace them with a cheaper player, but if you leave it to the 28th or 29th of January, we can do nothing. Of course that worries me a lot."
"I know that they are talking and I'm happy if he can stay," Sergio said.