Manchester City's Mario Balotelli makes surprise visit to school
Last updated on .From the section Football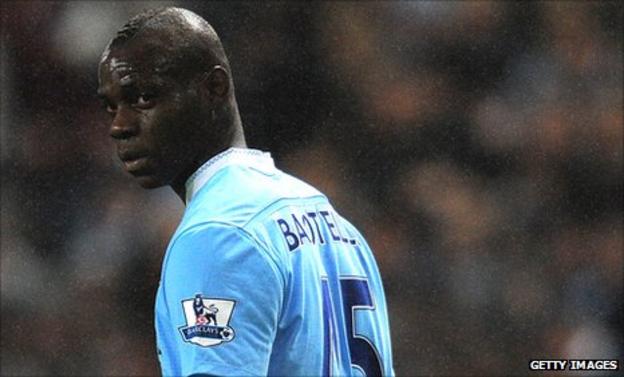 Manchester City striker Mario Balotelli surprised students at a school when he walked in and asked to use the toilet.
Balotelli, 21, apparently parked his Bentley outside Xaverian College, Manchester, on Thursday lunchtime.
He used the toilet before talking to students in the canteen and walking into the teachers' staff room.
A college spokesman told the Manchester Evening News: "Xaverian was delighted to receive a surprise visit from Mario who chatted to some of the students."
Student Edward Gasson, 18, was sitting in the canteen with friends when Balotelli walked in.
He commented: "Balotelli parked his Bentley outside then came in and was asking where the toilets were, then he went to the teachers' staff room.
"After that he was just walking round campus like he owned the place and everyone was following him around.
"I'm a City fan so it was amazing to see him but it was a bit ridiculous for him to come here - you would never expect it to happen."
Balotelli played for City in Wednesday night's Carling Cup semi-final defeat against Liverpool but was substituted shortly before half-time after suffering an injury.
The Italy international has regularly been in the news for his off-field antics since he joined City in August 2010.
He threw a dart at a youth team player in March, was substituted by Mancini for showboating in a pre-season friendly and has been sent off three times since joining from Inter Milan.
Balotelli was also involved in a training ground bust-up with team-mate Micah Richards last month and was linked to a similar incident with Jerome Boateng in December 2010.