Michael West and Tom Phipp not set to exit Ebbsfleet - Daish
Last updated on .From the section Football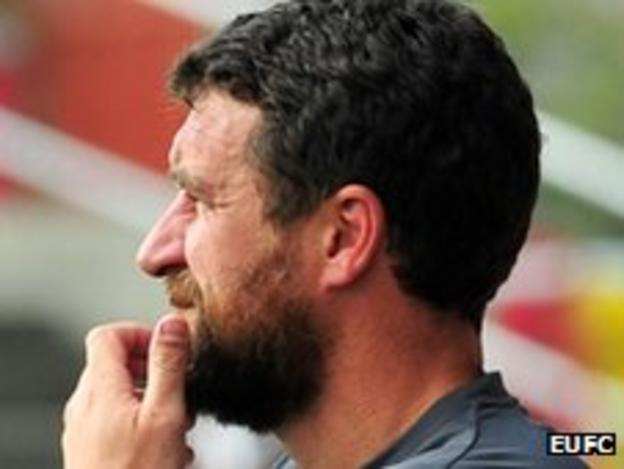 Ebbsfleet boss Liam Daish says the sales of youngsters Michael West and Tom Phipp are not imminent.
It had been feared young players might have to be sold but Daish told BBC Radio Kent the club have yet to receive any bids for the duo.
"They can only be sold if someone bids and that hasn't happened," he said.
"It's business as usual, we are planning for the next game. Whoever it is it would be exactly the same. Players only get their moves, whether it's in the transfer window or the end of the season, if they perform well and that hasn't changed, they have to keep performing."
Daish accepted there had been scouts watching their games recently but he does not think that this was necessarily with a view to signing his players.
"Of course there are scouts, but that might be down to us playing other teams, they might be looking at other players," he continued.
"We are the most southern conference team in and around London. So if they want to watch conference football, scouts will come and watch us.
"People can read too much into scouts being here, it's when managers watch players, that's when you've got think about it and that hasn't happened."
Ebbsfleet continue their FA Trophy campaign on Saturday when Chester visit Stonebridge Road for a place in the last 16 of the competition.
Daish said FA Trophy games always bring back memories of the biggest day in the club's history when they won the competition in 2008.
Neil Barrett is the only player in the Ebbsfleet squad who was with the team at Wembley four seasons ago.
"The club has got great memories of the competition and we are looking to do well but we have a tough challenge," said Daish.
"In the first round a few big clubs went out and the ones at the top have got different priorities but if you get over the early ties you gain momentum and if the draws are kind you never know what might happen."
There is commentary of Ebbsfleet United v Chester on Saturday 14 January on bbc.co.uk/kent