Steven Pienaar staying at Tottenham says Harry Redknapp
Last updated on .From the section Football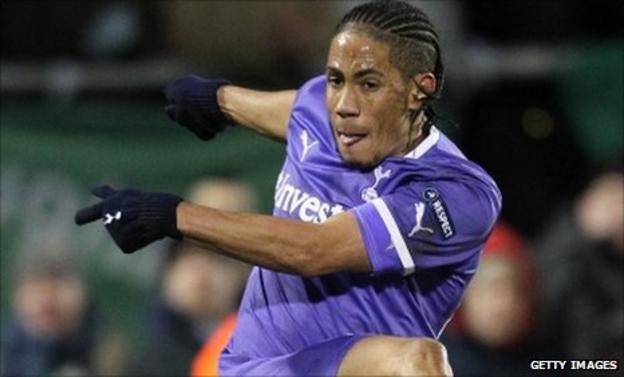 Tottenham boss Harry Redknapp has insisted Steven Pienaar will not be leaving White Hart Lane in January.
The South African midfield player has struggled to break through since signing from Everton last year and has been linked with a move to QPR.
But Redknapp said: "I wouldn't want to let him go. He is a good player. I don't need to weaken the squad.
"I'd rather have a good squad for the last 18 matches than let one or two go who could play a part in the run-in."
Pienaar, 29, has started just five league games for Spurs with injuries having limited his chances.
He suffered a concussion in February and picked up a groin problem at the end of last season.
The injury flared up again in pre-season and he had to have surgery as a result, ruling him out until mid-September, before another two setbacks kept him sidelined until November.
He came on as substitute against Everton on Wednesday, and Redknapp added: "I brought him on for the last 10 minutes against Everton and he didn't give the ball away."
But Redknapp admits that Tottenham's strict wage structure means he faces a battle to keep some his stars.
"Players play for a club and they enjoy being there, but if someone comes along and offers them a contract that could blow their current one out of the water, then you have a problem," he said.
"I'd be talking rubbish if I said people wanted to stay at Tottenham just because we're playing good football. I'd be dreaming.
"If you want to keep the best players, we have to find a way of doing a deal that's near to what they can earn elsewhere, otherwise it will be a problem," he said.