Plymouth Argyle to appoint 'mentor' for Carl Fletcher
Last updated on .From the section Football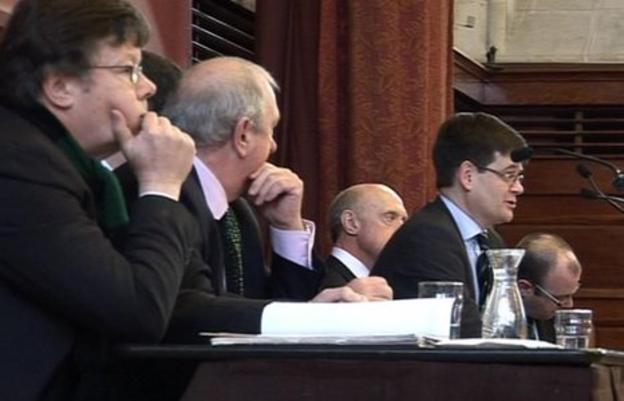 Plymouth Argyle are to appoint a coach to mentor manager Carl Fletcher.
Argyle owner James Brent refused to name the man but did admit he had experience in league management.
"The individual who comes in will come in as a mentor and advise Carl to help him take the team forward," Brent told BBC South West.
The news came as he unveiled Argyle's board to fans at a meeting in the city, with three new directors and a new supporters' body to advise the board.
Brent would not be drawn on who the club has approached, but former AFC Bournemouth and Doncaster Rovers manager Sean O'Driscoll spent time advising novice Argyle boss Fletcher before Christmas.
Wolverhampton-born O'Driscoll, 54, was youth coach at AFC Bournemouth when Fletcher was coming through the ranks at Dean Court and was manager of the Cherries when he sold the former Wales captain to West Ham in 2004.
"Carl has got all the attributes of a potentially great manager, other than experience," said Brent, who hopes that the new coach will be in place by the end of next week at the latest.
"He's very, very driven, he's clever, he's very, very thoughtful, he's incredibly hard-working, got a great work ethic, is very well liked by players and his coaching staff are great fans of his so he just needs some experienced help,"
At board level, Brent also announced that the Plymouth Argyle Fans Trust have been offered the chance to buy a 20% stake in the club by the end of September.
"It's been something that has been on the Trust's agenda for some time," added Brent. "And I'm a great believer that either you do something or you don't do it.
"This is really the opportunity for the Trust. If they want to make the investment, then we're giving them the opportunity to do so."
Brent also wants a new fan body, set up to hold the board to account, which will be known as the Green Army Supervisory Board.
It will meet with the board at least every three months and will be made up of a mixture of members of formal supporters groups such as the Green Taverners and supporters elected to the group by fans.
The move was welcomed by Argyle president and former Fan's Trust leader Chris Webb.
"It's what we as a fan base have fought for and it's what went wrong under the old board," he said. "The fans had no say. The fans couldn't monitor what was going on.
"Now via James Brent and the open approach we have the opportunity to do that."
The club's new-look board sees a number of people appointed with previous football experience.
Former vice-chairman of Argyle, Peter Jones, returns to the club he served from 2001-2005, while financial director Martin Baker has been appointed as acting chief executive.
Two other new directors have also been announced, David Felwick and Richard Holliday.
Plymouth-born Felwick is a former chairman of the British Retail Consortium and ex-deputy chairman of the John Lewis Partnership.
Holliday is a managing director at The Royal Bank of Scotland, who specialises in sport finance and was involved in the financing of Arsenal's Emirates Stadium and advising both the current and former owners of Liverpool.
"It was really finding people with the experience in the areas that we need most and find people who are best in class and have a similar culture and aspirations that we have," said Brent.
"In David, we have one of the most senior retailers and most senior businessmen in the country, who's an Argyle fan through and through.
"In Richard we have one of the top sports financiers in the country and, in Peter Jones, we have someone who was vice-chairman of the club during its most successful years, who's also a branding, advertising and marketing specialist, so I think it's a pretty well-balanced board."
The club has still to appoint a chairman, Brent having indicated that he was still looking for the right person for the job after Peter Ridsdale left for Preston in December.