Glen Johnson should have been sent off, says ex-ref Dermot Gallagher
Last updated on .From the section Football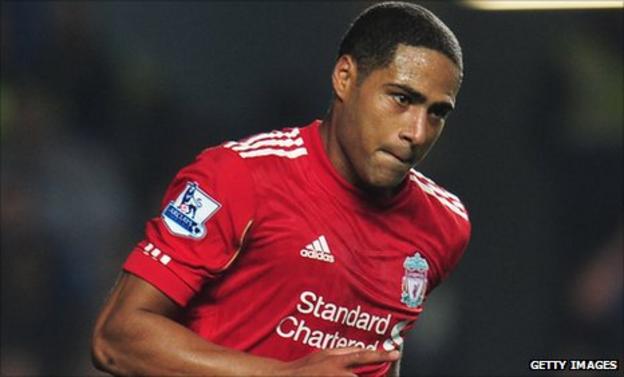 Former referee Dermot Gallagher said Glen Johnson should have been sent off for a two-footed tackle in Liverpool's Carling Cup win over Manchester City.
Referee Lee Mason did not award a free-kick for a challenge similar to one that saw City captain Vincent Kompany red-carded against Manchester United.
"Everybody will accept it's a red card," Gallagher told BBC Radio 5 live.
City assistant David Platt called for consistency but did not think either player should have been sent off.
Liverpool captain Steven Gerrard and City manager Roberto Mancini were involved in an argument in the tunnel after game, following Johnson's tackle on Joleon Lescott.
The Italian claimed the tackle was worse than Kompany's in City's FA Cup defeat three days earlier, which resulted in a red card and a four-match ban - the latter because it was Kompany's second straight red of the season.
Gallagher wants greater clarity on what is viewed as a dangerous tackle.
"God forbid, if Lescott had received that tackle, he would have had two broken legs," he said.
"We've got to get these people together, sit down and decide what is acceptable and what isn't - give the referees a little bit of licence, not the massive, grey area there is now.
"[They need] a little bit of licence to say: 'There is a borderline challenge, which on a given day, [depending]where you're stood and how it looks, could go either way.'"
City assistant manager Platt said he did not think Johnson's tackle was dangerous and agreed with the referee's decision not to send him off.
"Live in the game I don't think it was a case of it being dangerous necessarily," said the former England international."
But he added: "The problem is there's an inconsistency there.
"Vinny's sending off, I think everybody who has watched videos of it would say it shouldn't have [been a red card].
"Live in the game, can you excuse the ref for sending him off? Yes, because he's interpreted something.
"We feel as if we've been punished twice."