Swansea City are hottest ticket in town
By Simon Davies
BBC Radio Wales
Last updated on .From the section Football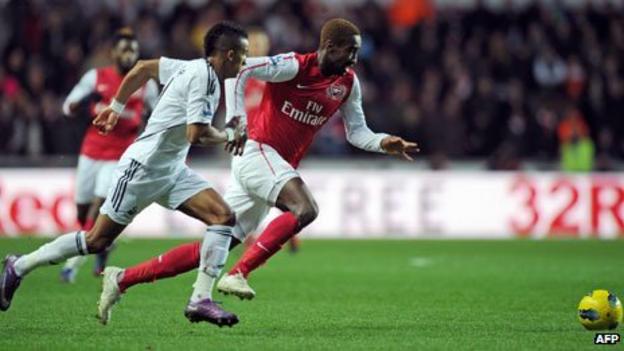 Brendan Rodgers may feel "lazy journalism" was to blame for his side's lack of widespread recognition in the football world but even the laziest of journalists cannot help but laud the refreshing style of the Premier League new boys.
"People were being paid to have views on Swansea City and they didn't even know the name of the players." Rodgers had complained ahead of his team's exciting 3-2 victory over Arsenal..
The win takes the Swans into the top 10 of the Premier League during their first season in the top flight since 1982.
So, things have now changed and it seems everyone is jumping on the Swansea bandwagon. Rodgers had called on Fabio Capello to visit south Wales to watch his side. How glad the England manager must be that he took up that offer.
The Italian surely could not have failed to be impressed as he watched the enthralling win over Arsenal from the stands.
Goalscorers Danny Graham, Nathan Dyer and Scott Sinclair have been strongly linked with places in Capello's squad and the trio could not have done much more to enhance their aspirations.
"He (Capello) would have been surprised at the level they played at," Rodgers said. "The front three were a massive threat all afternoon
"The advantage we have is that our players play a style that if they stepped up to international level it would be no surprise to them.
"Players at unfashionable clubs are questioned technically, but they have proved they can play at that level."
So, do not be surprised if Capello becomes a regular at the Liberty this season.
Mind you, he should be pleased he can get a ticket. Swansea's eye-pleasing style against the best teams in the land has made the Liberty Stadium the hottest ticket in town.
Even BBC Wales' cricket correspondent Edward Bevan had been left out in the cold, tweeting: "Queued again, unsuccessfully, for tickets at the Liberty today and after the great win, will continue to stand in the cold!"
That was an unheard-of scenario at a cash-strapped club nine years ago. Back then, the Swans were propping up the entire football league - four points adrift at the bottom of the old Third Division. In contrast, Arsenal were top of the Premier League.
But they're equals now. Not financially of course, after all Swansea's team cost millions rather than tens of millions, but they've proved to be more of a match for anyone on the field and it is not just Arsenal who have found that out.
"They are a credit to the game" said Tottenham manager Harry Redknapp after their 1-1 draw at Swansea. "They will be a match for anybody... Brendan Rodgers has done a great job. Not many teams will come here and win." High praise indeed from one of top flight football's most senior figures.
Attention will now turn to whether Swansea can stay in the Premier League. But even if that does not happen, they have certainly won the widespread recognition their manager feels they deserve and are fast becoming the City's best export since Dylan Thomas. Or is that me just being lazy?