Leicester City not good enough - Nigel Pearson
Last updated on .From the section Football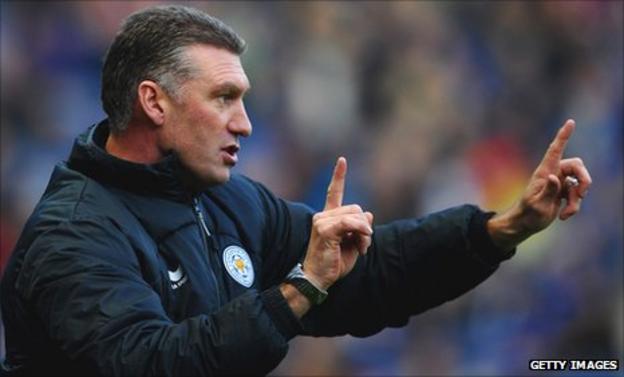 Leicester City manager Nigel Pearson believes his side are suffering from "delusions of grandeur".
The Foxes at the weekend saw them slip to 15th in the table, seven points adrift of the play-offs.
Pearson told BBC Radio Leicester: "I wouldn't be in the job if there weren't things wrong at the club.
"My job is to put that right. I am well aware of that and I will be working very hard to rectify that."
Leicester have of the last eight matches and Saturday's loss to Barnsley was their ninth defeat of the season.
"It is an indicator of where we are at with the poor performance," added Pearson.
"I think players were certainly affected by the fact that we weren't playing well. I think maybe they let the response of our fans get to them a little bit. We've got to deal with it better than that.
"We've got a number of issues that we need to address and I will be working hard to do that. In terms of how the squad has been complied, I am not even going to go there.
"We are where we are. We've got the players we've got. I'll try and do some business in this window and hopefully rectify the problems we have.
"I wouldn't accuse the players of not having a go but we were not good enough."
Leicester host Nottingham Forest in an FA Cup third round replay on Tuesday night.