Hearts' Paulo Sergio bemoans refs' treatment of Ian Black
Last updated on .From the section Football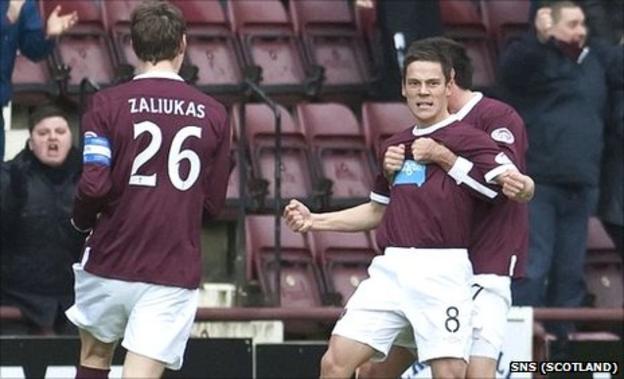 Hearts midfielder Ian Black's development is being hampered by his combative reputation, club manager Paulo Sergio has told BBC Scotland.
"Why put a reputation on the player when I am trying to change these kind of things?" questioned the manager.
"I really believe that Ian can be useful for the Scotland national team."
Referee Steven McLean's cautioning of Black took the player's card tally for the season to seven yellows and two reds.
"I believe it was a mistake. A yellow card was too much," said Sergio on BBC Scotland's Sportscene as he argued that, although his player had tried to pull McGowan down, the St Mirren attacker had stayed on his feet.
"I was very angry because these yellow cards take Ian Black out of an important game for us, against Celtic.
"The very good players should be playing in these kind of games. He is going to be out and I am sad about that.
"I am trying to change him. I think he is improving a lot. The last five or six games, he did not pick up a yellow card. He is very focused on football.
"It is very hard for me and it is very hard on him too; it is unfair."
Meanwhile, Sergio is confident that fans' favourite Rudi Skacel will remain at Hearts for the remainder of the season.
"I want to keep him and, after I talked to him, he wants to stay too. Sometimes we read lots of things in the newspapers, but I believe Rudi will stay with us," said Sergio.
The Czech midfielder hammered in a hat-trick of left-footed shots as Hearts came from behind to beat the Buddies, but Sergio was not surprised at Skacel's ability in front of goal.
"I can tell you that he does that every day in training," he said.
"He has that capacity. He is maybe the best player I have ever coached at shooting at goal.
"He did a fantastic job for the team, but not just in terms of the goals he scored.
"Everybody can see that but also his defensive work, the responsibility and supporting John [Sutton] in front all the time.
"Of course we have to speak about Rudi because he scored three fantastic goals, but for me we have to talk about all the team."
Despite the financial problems at the club and some top players being told they can seek employment elsewhere, Hearts now sit in third place in the Scottish Premier League.
They are unbeaten since visiting Celtic Park, where they lost 1-0 on 10 December, and have leapfrogged a stuttering Motherwell side to sit behind Celtic and Rangers.
Sergio acknowledges that his squad is likely to be stripped of a few players in the January transfer window but is adamant that players will no go on the cheap.
"For me, it's a very, very tough month. January is like 90 days: it never ends," he said.
"I believe we can lose two or three players. We need to sell, everybody knows that.
"Sometimes people think they will come in the last day of the transfer window with a small amount of money and pick the player they want. It is not going to happen like that - no chance."
Club owner Vladimir Romanov has stated that he wants to cut Hearts' budget and ultimately sell the club.
Asked about the turmoil and if he knew what was coming next, Sergio replied: "No, I never know, but I am positive.
"I believe that the people who are managing Hearts are responsible people and they know that they have to put things in place.
"Sometimes I read that our situation maybe helps bring people together to get results. I can't agree with that.
"The situation is bad, period. It's the way we deal with it that makes the difference.
"It's a credit to us all at the club that we can get these results while we are having these kind of problems."