Vladimir Romanov considers U-turn on decision to sell Hearts
By Brian McLauchlin
BBC Scotland
Last updated on .From the section Football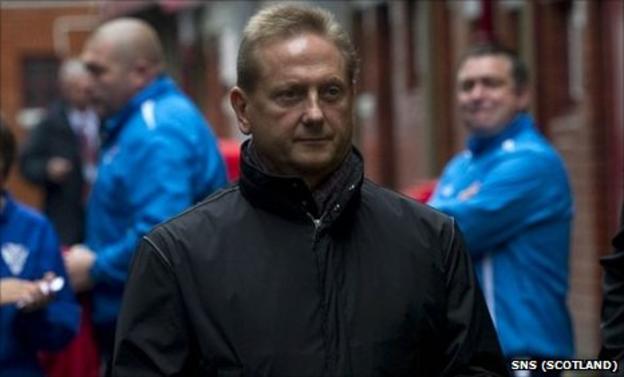 Hearts owner Vladimir Romanov says he might reconsider his decision to sell the club if changes are made to Scottish football.
He told BBC Scotland he wants changes to the structure of the game and how the media portray him and the club.
"It may well be that I won't leave Hearts after all," he said.
"There is many a buyer out there. But if there will be positive changes then I will be inclined to stay and invest money."
Romanov took control of Hearts in 2005 with the ambition of breaking the stranglehold on the Scottish title enjoyed by Glasgow duo Celtic and Rangers.
But the Old Firm have continued their monopoly in the Scottish Premier League and the Lithuania-based Russian businessman has unleashed several verbal attacks on football's ruling bodies in Scotland and the country's media.
In November, Romanov said that he would consider selling the Edinburgh club and that he would look to make the club survive financially without further injections of cash from himself.
Since then, Hearts have undergone a programme of cost-cutting, including squad departures, and the late payment of wages prompted players to make a complaint that led to a warning of sanctions from the Scottish Premier League.
Romanov still says that he will listen to any group looking seriously at buying the club, who say they have now paid the required January wages on time.
However, he also admits he would be interested in a proposal that would allow him to retain ownership of Tynecastle Stadium and lease it back to the new owners of the football side of the business.
"I would be interested in that," he said.
Romanov concedes that salaries have been paid later than the due date but insists that all players will receive the money they are due.
"The fact is that there has not been an instance when the players have not been paid," he said, again stressing that the sale of midfielder Eggert Johnsson for about £200,00 to Wolves was crucial.
"I told everyone about the late December wages that, when the Eggert Jonsson money was paid to us on the first working day in January, the players would be paid.
"I have paid out £30m to the tax man for wages that I have paid out since I came to Hearts."
Romanov says that he is already putting plans in place that will ensure that Hearts will be self-sufficient and not require him to put in more money by the end of the season at the latest.
Despite the wages dispute, Hearts' recent form has improved and they have overtaken Motherwell to lie third in the SPL.