London 2012: Only seven players turn down GB team request
Last updated on .From the section Football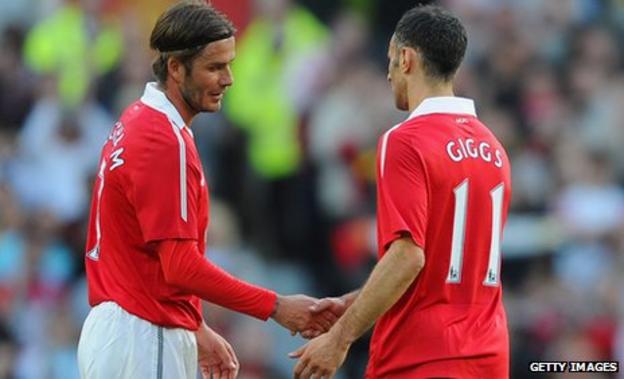 Only seven of the 191 players contacted about their availability for GB's Olympic football team have said no.
The Football Association wrote to the players to ask whether or not they would be available for the team.
David Beckham, 36, and Ryan Giggs, 38, were among the players who indicated they would be available.
There were no negative replies from those asked about the women's team and BOA spokesman Darryl Seibel described it as an "outstanding response".
The Welsh, Scottish and Northern Irish associations are opposed to the idea of GB teams, but have said they will not stop their players from taking part.
Olympic football is for under-23s but Beckham and Giggs could both be included as over-age players.
"Players recognise how special this opportunity is," Seibel added.
Former England captain Beckham's availability for Olympic selection had been widely known but the fact he and Manchester United midfielder Giggs are among those sounded out by the FA indicates they are being considered for the three over-age picks the Team GB squad can include.
Players did not have to respond in writing to the FA's letter if they wanted to be in the Team GB player pool, from which coach Stuart Pearce will pick his squad for the Olympics, only if they did not wish to.
However, a large percentage of the 184 players did contact the FA to confirm their interest.
"This is an outstanding response and it confirms what we have believed all along, which is that there is widespread interest among players in competing for Team GB at the London 2012 Games," continued BOA communications director Seibel.
The seven players who have said they do not wish to be involved are reported to be from across the home nations, including at least one Englishman, and are from a variety of clubs.