George Houghton rules out Darlington takeover
Last updated on .From the section Football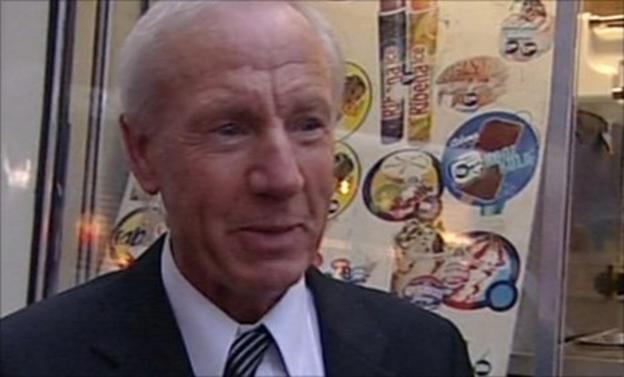 Former chairman George Houghton has ruled out making a bid to take over Darlington due to the size of the debts at the football club.
Houghton's approach was potentially the last opportunity for the Quakers to be saved, with funds running dangerously low despite the exit of all staff.
"It's the point of no return, it's gone," Houghton told BBC Tees.
"I had a meeting with Harvey Madden [administrator] as I was interested, but I established debts over £1.2m."
He added: "They owe the Conference £200,000 before the end of the season, I said I'd pay that, but the debtors and creditors are [owed] £1m - you're buying nothing for that, so I offered £100,000.
"Added to that they only have a lease on the ground and there are no players.
"Instead of putting good money in to bad money, I'd rather buy a hospital for £1m, or £2m for the cancer ward, at least we would get benefit - with this there's nothing there."
Administrators parted company with the manager and players on Monday, warning the club could fold imminently.
Saturday's home fixture with Fleetwood Town is in serious doubt.
Players are yet to commit to the fixture following their redundancies and without the prospect of gate receipts, the club have no revenue streams.
"I wanted to save the club for football reasons," Houghton continued.
"I rate football and I like Darlington, and the money I established - £7m - I hate to see the state it is in.
"It turns my stomach, the years I put in and the money I put in."
Houghton, a hotel and property tycoon, had a first spell as chairman having bought the club from the Sterling Consortium in March 2006.
Under his ownership, the Quakers invested heavily in the first team under managers David Hodgson and Dave Penney.
Hodgson broke the club's transfer record with the £100,000 signing of Julian Joachim in September 2006, and then Penney matched that figure when Pawel Abbott arrived from Swansea five months later.
Despite the investment, the club finished short of the League Two promotion places in 2006-07, and were beaten semi-finalists in the 2007-08 play-offs.
However, despite a promising first half of the following season with the club poised for a play-off push, Houghton placed the club in administration amid mounting debts and automatically triggered a 10-point penalty.
That decision ended Darlington's hopes of reaching the play-offs, but with a buyer not having been found when the season finished in May, Houghton returned as chairman and appointed Colin Todd as manager.
Eventually, with the help of Raj Singh, a Company Voluntary Agreement was brokered to allow the club to emerge from the period of administration in time for the 2009-10 season.