Stoke City 'have maximum allocation' for Valencia tie
Last updated on .From the section Football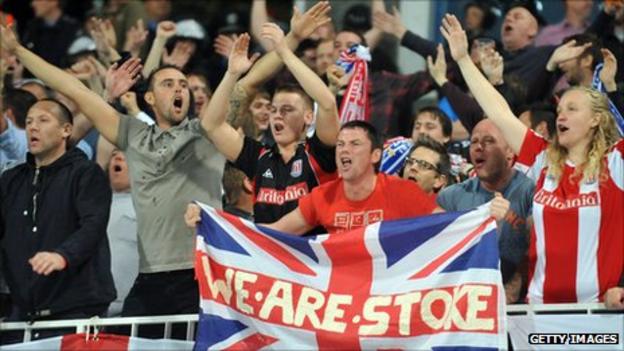 Stoke City have been given the maximum allocation of tickets for the away leg of their Europa League tie in Valencia, chief executive Tony Scholes has said.
Many Potters supporters are concerned they will not get a ticket for the game on 23 February, having already booked flights and accommodation in Spain.
Scholes told BBC Radio Stoke: "If there was an option for any more tickets, we would have taken it.
"It's in our interests to have as many fans there supporting us as we can."
He continued: "We've got the absolute maximum that they've said we can have."
Speaking immediately after the draw in December, manager Tony Pulis appealed to as many supporters as possible to "save up" so they could attend the second leg at the Mestalla.
He said: "Everybody's feeling the squeeze at the moment, Christmas is coming, but after that they've got eight or nine weeks to save up.
"Let's take as many as we can and show them what a proper English club is like when their supporters travel."
Stoke have already played in Croatia, Switzerland, Ukraine, Israel and Turkey during their run to the knockout stages and have been followed in great numbers by travelling supporters.
But despite pleas to the Spanish club and Europe's governing body, Uefa, the allocation for the trip to Valencia will not be increased.
"This game has seemed to caught the imagination of our fans, arguably in a way that the previous ties haven't done so much," said Scholes.
"Valencia are one of the great European clubs and it's more local than the games we've been having, so we were keen to secure as many tickets as we could.
"We've secured 2,300, which may well not be enough to suit the demand of our fans for it.
"We raised that point with Valencia and Uefa as well, but as they've pointed out to us, that was the maximum number that they told Chelsea and Manchester United they could have when they played there very recently."
The first leg of the tie will be played at the Britannia Stadium on 16 February.
Meanwhile, Scholes is hopeful that young winger Ben Marshall will agree a new contract with Stoke.
The 20-year-old has just returned from a loan spell with League One side Sheffield Wednesday, who have indicated that they would like Marshall to return.
"He's a player that we've got out on loan to a number of clubs and he's done well at Sheffield Wednesday," said Scholes.
"We're looking to renew his contract and we're hoping to do that shortly. Clearly we want to do that before he went out on loan to another club."